JIPMER issues Instructions for MSc Nursing candidates selected for admissions 2020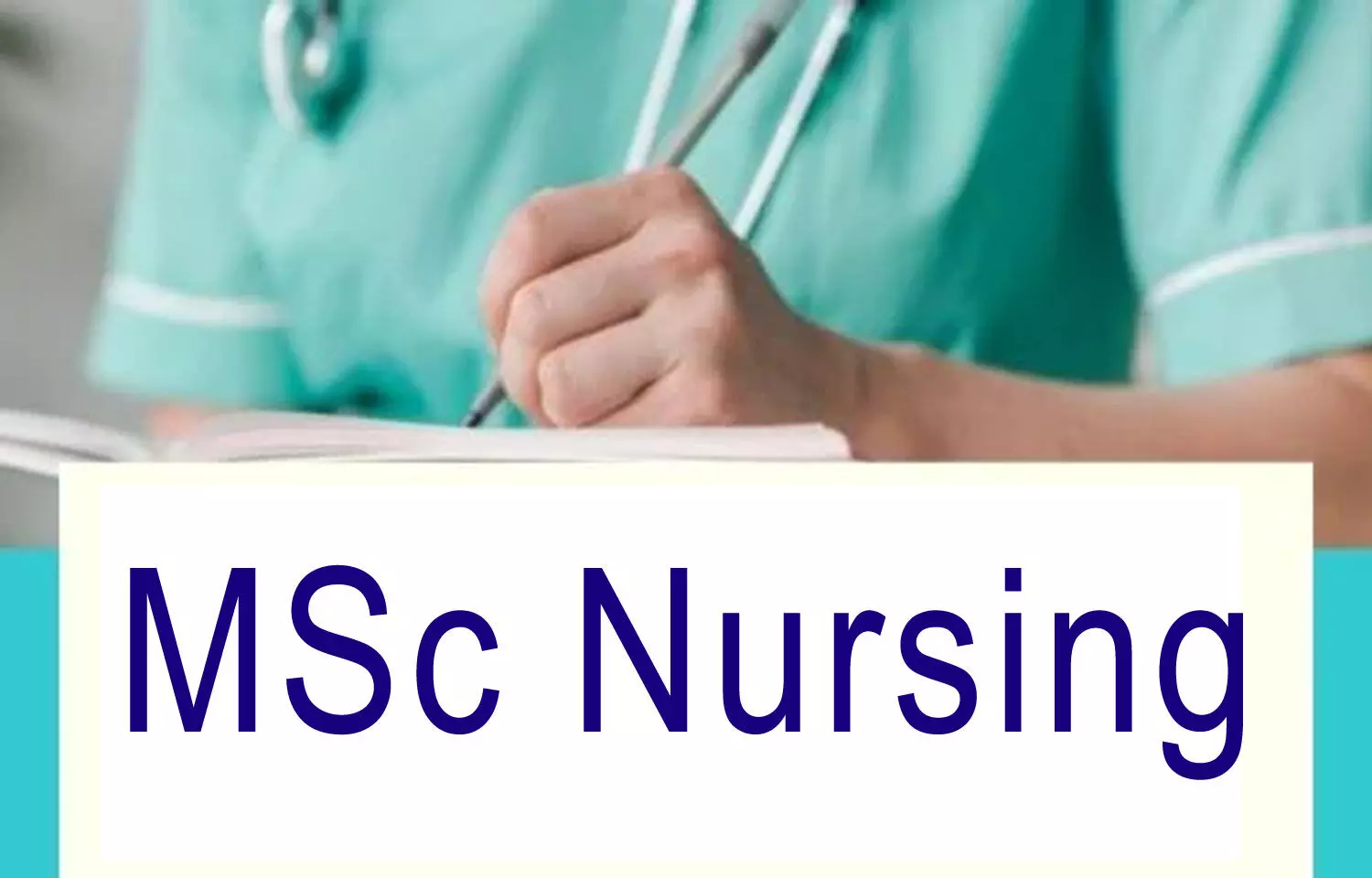 Puducherry: Through a recent notice, the JIPMER has released Instructions to MSc Nursing candidates Provisionally selected for admission for the Academic Year 2020-21.
The Pondicherry residence candidates are requested to appear in person at Academic Section, JIPMER, Puducherry on 12 Nov 2020 at 09:30am with the following certificates & documents to complete the admission procedure

1. All the certificates & documents in original
2. One set of copy of all the certificates & documents
3. Hall Ticket in Original
4. Downloaded Rank card
5. Online application photocopy
6. Passport size photo 3 Nos.
Admission order will be issued only after the physical verification of original Certificates and documents. Subsequently the candidates should complete the admission procedures and pay the admission fees as mentioned in the prospectus 2020.
All the outstation candidates provisionally selected for MSc Nursing are advised to directly report to the quarantine facility office and adhere the guidelines attached herewith as "NOTICE".
Instructions to Outstation MSc Nursing candidates selected for Admission for the academic year 2020-21

The candidates provisionally selected for the MSc Nursing as per the notification No.JIP/Dean(A)/MSc Nursing/2020-21 dated 05.11.2020 are strictly advised to follow Covid-19 guidelines as detailed below
Date of reporting: 18-11-2020
Instructions before leaving home-town
• Travel plan: Candidates are instructed to send their travel plan to the assigned faculty/resident/office staff at jipmerbsc@jipmer.edu.in. This information should reach in advance to allow arrangements at JIPMER, Puducherry for screening/ quarantine on arrival. The travel plan should indicate:
. Mode of travel
. City of departure
. Date and time of arrival at JIPMER, Puducherry
. Parents' contact details
. Phone number along with alternate number if any
• Essential items to carry: Each student must bring along the following essential items before entering JIPMER premises.
i) For personal protection:
3-ply facemask – minimum 100 Nos,
Face shields – 2
ii) Supplies for daily and frequent sanitization:
Hand sanitizer – 100 ml (5 Nos)
Liquid soaps for personal use in washrooms – 2 bottles
iii) For following social distancing norms in the mess
Food carriers – 2 Nos and plates
Necessary packed food/snacks as required
iv) Necessary clothing for the quarantine period
• Before you leave home, you need to disclose if you have any COVID-19 related symptoms and any other co-morbidities.
• Candidates must carry a valid Government identity card with them
Procedures on Arrival at JIPMER, Puducherry
Quarantine policy:
On arrival at JIPMER, the candidates will be quarantined for 7 days in Blackwell hostel (boys) and international student hostel (girls) as per Govt. of India/State Govt. guidelines. They should report directly at the quarantine facility office at International Student Hostel(behind Regional Cancer Centre),JIPMER Puducherry campus.
Facilities available at quarantine facility: Double sharing accommodation with cot, mattress, pillow, chair, and table. Food will be made available at doorstep on payment basis from Common mess. Things that may be required : Bed sheets, pillow covers, bucket, mug, two tiffin carriers, plates, spoons, etc.
Social distancing norms, wearing of face masks, and hand hygiene should always be followed strictly.
A strict compliance is expected, failing which, the students may be placed in isolation and may not be permitted to appear for admission.
Note: The candidates will not be allowed to leave the quarantine facility during the quarantine period. Parents/ accompanying persons will not be allowed inside the quarantine facility to meet the candidates. All the items required inside the quarantine facility should be brought by the candidates at entry. If parents choose to stay in Puducherry, they should make their own arrangements outside the campus. No arrangements for their accommodation will be made by JIPMER.
Screening Process for candidates having Covid-19 related symptoms:
. Immediately on arrival, candidates having COVID-19 related symptoms should report to the "triage area" 19 located in the SSB Annex (open 24 hours). You will not be entertained if you are not wearing a face mask or do not carry a valid Government identity card.
. Thermal scanning (temperature recording) will be done.
. COVID-19 screening/testing: You will be screened for COVID symptoms, and a sample will be collected for COVID-19 testing if necessary.
. Only after the above screening process, will you be able to proceed to your respective hostel room.
Please note: Any candidate found to be COVID-19 positive will be immediately placed in isolation with round-the-clock monitoring. He/she will be treated as advised by the COVID clinical team. Information about their health status will be communicated to the parents immediately.
Admission:
Please read thoroughly the MSc Nursing Prospectus 2020 for JIPMER available on jipmer.edu.in for complete admission process. Candidates are instructed to submit all the original certificates as detailed in the prospectus. Admission order will be issued subject to certificate verification, medical board examination, payment of fees, and satisfying all the admission criteria, admission orders will be issued to the students.
Note: Failure to produce any of the required certificates in original and their photocopies during verification will lead to forfeiture of the allotted seat. No additional time or opportunity will be provided for producing the certificates. ID card will be issued to the candidates when ready.
Hostel accommodation:
Hostel accommodation will be provided only to outstation students after the completion of quarantine and admission process. The details are given in the Hostel Manual of JIPMER website.
The candidates opting for hostel should pay the following hostel charges before allotment of a room:
Establishment charges (per annum, non-refundable)-Rs. 6,000/-
Hostel caution deposit (refundable)- Rs. 5,000/-
Hostel mess deposit (refundable)- Rs. 3,000/-
Hostel room rent (double sharing, per annum, paid at the beginning of the year)-Rs. 6,000/-
Refund:
On vacating the hostel at any time after room allotment, hostel caution deposit and mess deposit will be refunded after making adjustments for any damage or dues. Room rent will be refunded for the full months not stayed. Establishment charges once paid are not refundable.
Facilities available in hostel rooms: Double sharing accommodation with cots, a small storage cupboard, table, and chair. Things that may be required to be brought by the students: mattress, pillow, bed sheet, pillow cover, buckets, mug etc.
JIPMER follows various COVID-19 guidelines/orders issued by the Government of India/Union Territory of Puducherry from time to time. It is the candidates'responsibility to strictly adhere to the COVID-19 safety instructions and any breech may make them vulnerable to get infected. We request all candidates to abide by the prescribed norms at all times to keep themselves safe. In spite our best efforts, if a candidate acquires COVID­-19 infection, he/she will be treated in JIPMER according to the JIPMER treatment protocol. However, JIPMER will not be responsible or liable for any prosecution in any such cases.
To view official notice, click on the following link:
https://medicaldialogues.in/pdf_upload/pdf_upload-142027.pdf