BW Businessworld names top 40 under 40 for Healthcare, details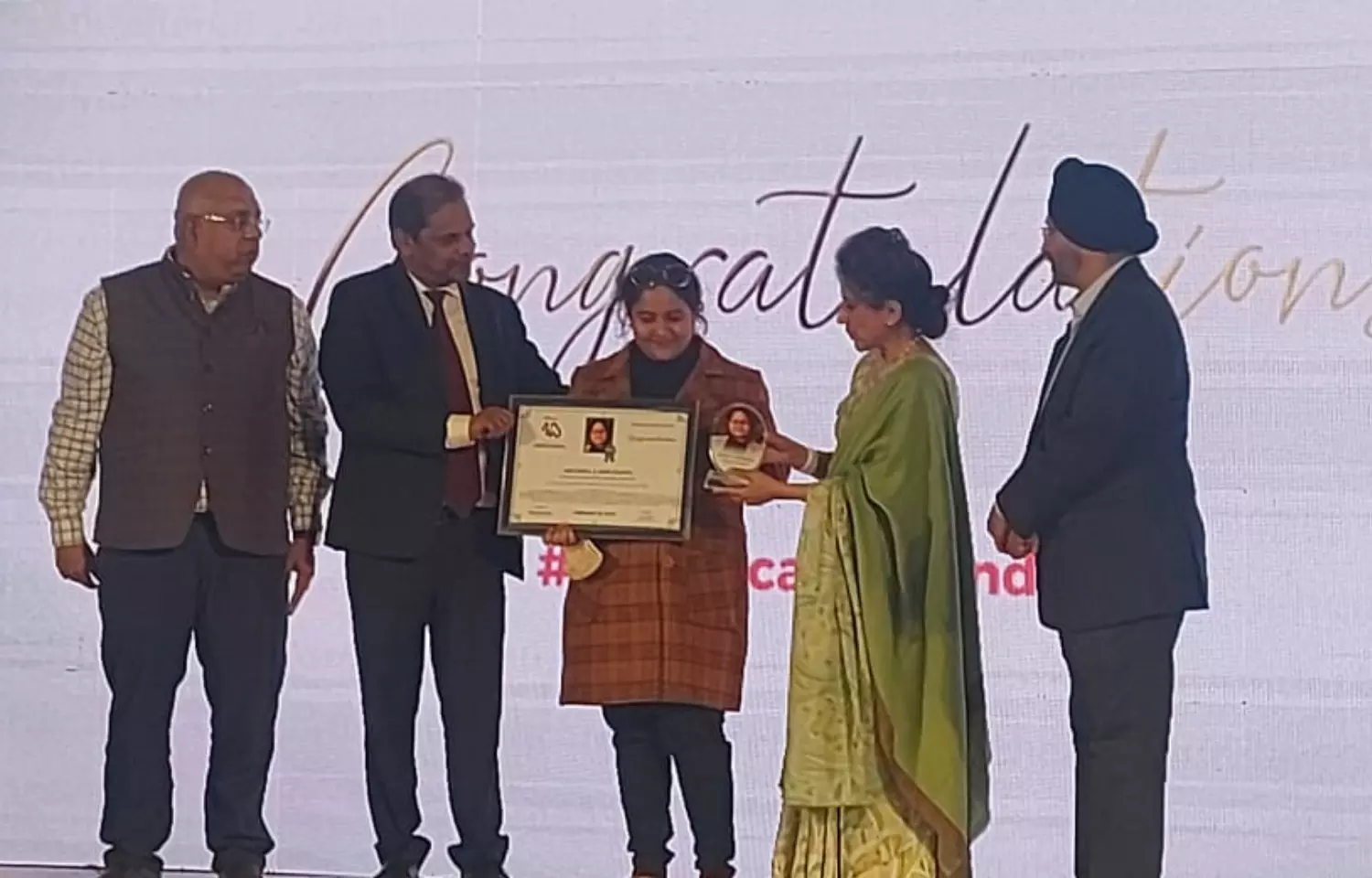 New Delhi: Honoring the young talent that are game changers in the field of healthcare, BWHealthcareworld.com in association with BW business world recently announced its 40 under 40 list. From frontline doctors to health tech entrepreneurs, the list includes the names of India's brightest healthcare influencers under the age of 40 who have made an impact to the Indian healthcare not...
New Delhi: Honoring the young talent that are game changers in the field of healthcare, BWHealthcareworld.com in association with BW business world recently announced its 40 under 40 list.

From frontline doctors to health tech entrepreneurs, the list includes the names of India's brightest healthcare influencers under the age of 40 who have made an impact to the Indian healthcare not just in terms of revenue profit and valuation but also in terms of their innovations that have also contributed to health of society.
Various nominations were received across the country which went through a rigourour process of scruntiny and shortlisting by an independent jury, The eminent jury was chaired by Dr A Velumani, Creator, Thyrocare. Other jury members included Dr Annurag Batra, Chairman & Editor-in-Chief, BW Businessworld and Founder, Exchange4media; Dr DK Das, Director & Founder, CMC Healthcare; Dr Sonia Malik, Director & HOD, Nova Southend Fertility & IVF; Dr Arun Gupta, President, Delhi Medical Council; Dr DK Gupta, Chairman and MD, Felix Healthcare; Suzy Singh, Emotional Well Being & Mental Health Coach, Advisor to NGO, We listen Foundation & Author; Sunil Thakur, Partner, Quadria Capital; Sanjay Bhutani, MD, India & SAARC, Bausch & Lomb; Anirban Chakraborty, MD & CEO, TFCI; Deepak Sahni, Founder & CEO, Healthians; Durgesh Sharma, MD, CBC Corporation India and Sudhir Mishra, Founder & Managing Partner, Trust Legal.
Following are the details are some of the winners:-
Meghna A Singhania, Founder and Editor in Chief Medical Dialogues was recognized for her contribution in the establishment of the concept of medical journalism in india.
Dr Vishu Bhasin, Director Dr P Bhasin Pathlabs was recognised for being the only 24 X 7 X 365 lab service provider in India along with being the lab with fastest turn around time including COVID19 RTPCR.
Nilesh Aggarwal, CEO IJCP Group and MedTalks received the 40 under 40 award for 20-21 from BW BusinessWorld for excellence in Healthcare. IJCP Group has developed one of the largest healthcare ecosystems in India which engages with 300k doctors and over 1 million consumers each month.
Vidur Mahajan is the CEO of CARPL.ai. He has completed MBA in Health Care management and finance from University of Pennsylvania - The Wharton School.
Abhishek Shah, Founder & CEO of Wellthy Therapeutics is a second-generation healthcare entrepreneur. He previously co-led an early stage fund as a venture capitalist. He holds a B.S. in Chemical and Biomolecular Engineering from Georgia Tech and an MBA in Finance, Strategy and Leadership from the Indian School of Business (ISB).
Amrit Singh Ahluwalia, BDS is an Implantologist. He has 6 Years Experience in this field. He has completed us graduation from Vyas Dental College Hospital, Jodhpur in 2010.
Dr Anchal gupta, MBBS, MS Ophthalmology, is a young Ophthalmologist . She has done her Masters in Ophthalmology from the King George Medical University, Lucknow with academic accolades. She is the founder of Netram Eye Foundation.
Archit Garg is the co-founder of Glamyo Health. He did his MBA from Oxford University. Mr Garg worked in London for 2 years then gained subsequent healthcare and education investing experience for another two years after returning to India.
Arjun Dang, Doctor of Medicine, MD Pathology is the CEO and partner at Dr Dangs Lab. He has done completed his bachelors and masters from Sri Ramachandra Medical College and Research Institute.
Aryan Goyal is the Founder and CEO of Nureca Limited. He did his graduation in Bachelors of Applied Science (B.A.S.c.) Chemical Engineering from Purdue University.
Ashish Kumar Jain- Medgini works towards demystifing the Indian pharma supply chain including the wholesales and retailer. Founded by Ashish Jain in 2012, Medgini provides Indian pharma industry with a ready access to verified data of 4.4 lacs pharmacy and 7.2 lacs doctors. The idea was formed after a Diwali meet with his cousin who has challenged him to work towards decluttering the pharmacy ecosystem of India using technology and monetise business by providing easy access to information. They have various program including awareness, availability and custom application development.
Divej Wadhwa is the founder and CEO of Orange Health Digital. He completed his MBA from Narsee Monjee Institute of Management Studies.

Dr. Edmond Fernandes, MBBS, MD, PGD-PHSM is a Community Health Physician with global health expertise. He has written 2 books, has 19 research publications, 17 public policy advocacy and written over 160 articles in the print and electronic media.
Dr. Gauri Agarwal, MBBS, MD (Obs & Gyn), DNB (Obs & Gyn), Fellowship in Reproductive Medicine (Infertility) is the Director, IVF at Seeds of Innocence Centre.
Inish Merchant is the Chief Operating Officer (COO) of the AiqaHealth. He has completed his graduation from Narsee Monjee Institute of Management Studies.
Jitten Vir Bhasin is the group CEO of Yuvraj Singh Group. The group is an Indian Non-Government Company.
Dr Kaushik Sarkar, MD in Community Medicine is the director of Institute for Malaria & Climate Solutions. He did his masters from All India Institute of Hygiene and Public Health.
Khushboo Jain is the Co-Founder & COO of ImpactGuru.com. After graduating from Parsons, Khushboo left a career with Gucci, to set trends for changemakers instead.
Manish Ranjan is the CEO and founder of the NanoHealth. He did B.Tech in Mechanical engineering from IIT Bombay.
Manisha Kumar is the COO and Cluster Head of Healthcare Global. She did MBA from Indian school of Business.
Mansi Bansal is the CEO (India) of GeneStore France. She has 17 years of experience in healthcare from being Vice President, RG Stone Hospital to being India CEO for French MNC, GeneStore France currently.
Mukul Maurya is the director of ProClin Research.
Dr Nakul Makkar is Healthcare Solutions Architect at Ernst & Young. He completed his MBA in Business Administration and Management from IIM, Calcutta.
Neha Sinha is the CEO & Co-Founder of Epoch Elder Care. She is a dementia specialist and has gained international recognition for creating dementia services in India. She is a clinical psychologist by training, and is also trained in palliative care philosophy from Sophiahemmet University Stockholm (Sweden).
Piyush Jain Co- Founder and CEO of ImpactGuru.com holds Silicon Valley startup experience at SoFi. Tech venture and investing experience as Co-founder , a healthcare crowdfunding platform and Investment Committee Member, FounderBank Capital, leading global and Indian venture capital fund.
Prabhdeep Singh is the Founder & CEO of StanPlus Technologies Pvt Ltd. He is a active sportsman, avid reader and a tireless traveler.
Pranav Bajaj is a commerce graduate, who is a partner acquisition at Medulance. He brings in rich startup experience from his time at Zomato where he led the company's business development activities in the Delhi NCR region across specific categories.
Priyanka Goyat BDS, MDS - Orthodontics and Dentofacial Orthopaedics Dentist, Orthodontist, Dentofacial Orthopedist holds 10 years of experience.
Rajasi Dharia is Medical Administrator in Operations and Quality at NM Wadia Institute of Cardiology, Pune.
Saad Hafeez Usmani, MBBS, PG Diploma - Health Administration, PG Diploma - Medical Law and Ethics is a Internal Medicine Specialist in Bangalore and currently practices at Manipal Hospital, Varthur Road, Bangalore.
Satyen Sanghvi is a Chief Scientific Officer at Regrow.
Saurabh Kochhar is the Co-Founder & CEO of Meddo Health. He completed his PGDM from IIM Calcutta.
Saurabh Pandey is the Founder & CEO of Akna Medical also known as Aknamed. The company is a data driven healthcare B2B supply chain company that aims to transform the procurement function of the hospital into a strategic function, driving operational efficiency and profitability for the hospital operators.
Shashank Saini is the founder and CEO of Medpho. He received Top 40 Under 40 - Next Wave in Healthcare.
Supriya Malik is the Developmental Psychologist and Founder at eMbrace. For the last 14 years she has worked with a range of developmental and mental health disorders in Delhi and the UK, setting up early intervention programmes as well as leading diagnostic services.
Dr. Tanvi Mayur Patel, Masters in Endocrinology, MBBS, C.Diab, CCEBDM(DIABETOLOGY), CCMTD, DOMS is a endocrinologist at Dr Tanvi's Diabetes, Thyroid, Obesity and Hormones (Endocrine) Clinic. She has 16 years of experience in this field.
Vivek Srivastava is a Co-Founder & CEO of HCAH India. He has attained Business World 40 Under 40 award last year in February too.
Yogesh Agarwal is the founder of Onsurity Technologies. He is a general insurance specialist, who completed his education from Institute of Actuaries of India.
Zaheer Adenwala is a Co-Founder & CTO of Ketto, Asian crowdfunding platform. He is Skilled in Products, Analytics, Market Research, Digital Marketing and Technology. Adenwala has Strong business acumen with a MBA focused in Marketing Management from National University of Singapore. M.Com
Ruchika joined Medical Dialogue as an Desk Editor for the Business Section in 2019. She covers all the updates in the Pharmaceutical field, Policy, Insurance, Business Healthcare, Medical News, Health News, Pharma News, Healthcare and Investment. She has completed her B.Com from Delhi University and then pursued postgraduation in M.Com. She can be contacted at editorial@medicaldialogues.in Contact no. 011-43720751