Mumbai's specialist doctor breaks down while urging people to take Covid-19 seriously, Video Goes Viral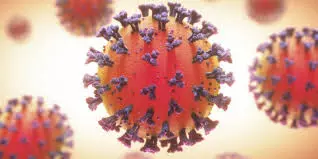 Mumbai: Amid the crucial phase of the second wave of COVID-19 hitting the country hard and many states adopting strategies like curfew and lockdown to control the spread of the fatal infection, a heart-rending plea of a Mumbai based doctor urging people to wear masks has recently gone viral on social media.

Breaking down in front of the camera, the doctor shed light on the prevailing scenario in the hospitals flooding with patients and the front-liners who had to experience burnout due to the battle against COVID.
The doctor, identified as Dr Trupti Gilada, an infectious diseases specialist from Mumbai in a desperate plea in the video that surfaced on social media and went viral on Tuesday is seen requesting the people to wear masks properly and to adopt all the COVID-appropriate behaviour as the current situation of COVID is quite serious in the state.
The doctor further added, " All those who did not have COVID in the last one year must not think themselves to be superhuman and must take precaution and follow the protocols."

Breaking down in front of the camera, the doctor stated, ''I have never seen anything like this, we are helpless!''
The doctor also stated that those who previously had COVID can again get infected by the second wave of COVID. Hence, everyone should take precautions.
Addressing the present situation of scarcity of beds, the doctor stated that no one can understand how difficult it is for doctors to see patients struggling for beds. She also requested that no one should get admitted to the hospital out of panic if they are stable because it will deprive the serious patient of the chance to secure a bed in the hospital.

The doctor stated that many doctors are facing mental breakdowns after seeing the condition of their patients. She also stated that it is especially difficult for the doctors as not only they are responsible for providing treatment to patients but also have to face the first-hand experience of the COVID disaster.