Padma Awards 2021: One doctor gets Padma Vibhushan, 9 conferred Padma Shri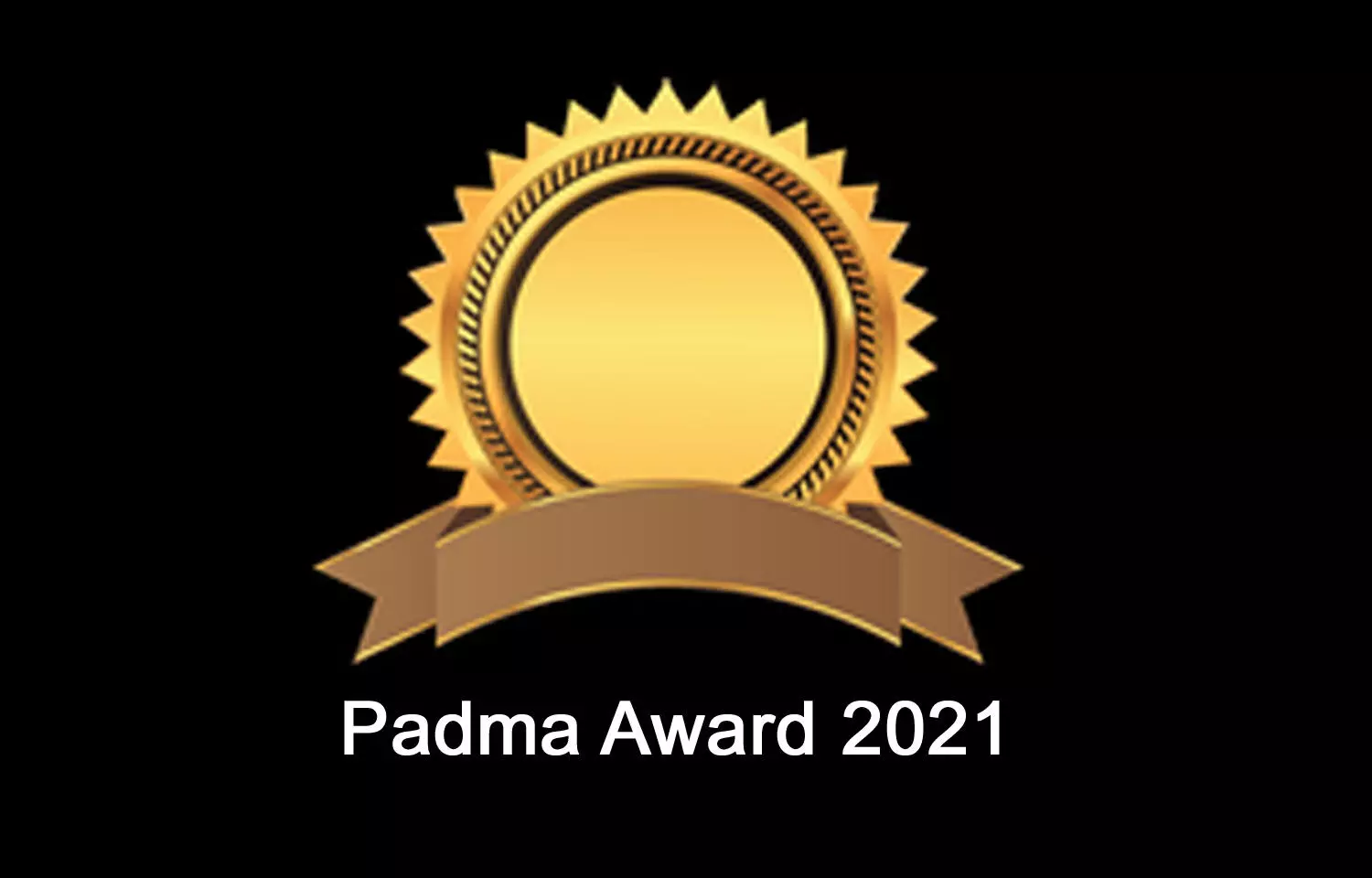 New Delhi: Its that time of the year, when the country celebrates Republic Day while also honoring those who have contributed to the field of medicine in their own.

This year, One doctor has been honored with the Padma Vibhushan- the second-highest civilian Award of the country that is awarded for exceptional and distinguished service; while 9 doctors have been conferred with the Padma Shri- the third-highest civilian award that is awarded for distinguished service in any field. No doctor has been honored with the Padma Bhushan
Following are the details of the awardees
Padma Vibhushan
Dr. Belle Monappa Hegde, popularly known as Dr BM Hedge is a leading cardiologist and educator from Udupi Karnataka, Known to most as the 'people's doctor,' Dr Hegde is known for holistic approach to medicine. He is the former Vice-Chancellor of Manipal University, Co-Chairman of the TAG-VHS Diabetes Research Centre, Chennai and the chairman of Bharatiya Vidya Bhavan, Mangalore. He was awarded the Dr. B. C. Roy Award in 1999 and was conferred Padma Bhushan in 2010.
Padma Shri
Following doctors have been conferred with the Padma Shri
1) Dr Rattan Lal Mittal Medicine-Punjab- A leading orthopedician known treating club deformities, Dr Mittal former Professor and Head of Orthopaedic Department at Government Medical College, Patiala. He is known for performing rare clubfoot surgeries free of cost abd has done cutting-edge research on severe, rigid and neglected clubfoot deformities — highly prevalent in lower and middle income countries, including India.
2) Dr. Chandrakant Sambhaji Pandav- Delhi- Dr. Chandrakant S. Pandav is Former Professor & Head of the Department – Centre for Community Medicine at the All India Institute of Medical Sciences (AIIMS), New Delhi, India. He completed his MBBS and later MD in Community Medicine from AIIMS, New Delhi and M.Sc. from McMaster University Hamilton, Canada with specialization in Health Economics, Clinical Epidemiology and Biostatistics. Dr. Pandav is also an alumnus of the Department of Human Nutrition, at the London School of Hygiene and Tropical Medicine, London (UK).
Known for his contribution towards Iodine Deficiency Disorders (IDD), he has also served as a consultant on Iodine Deficiency Disorders (IDD) since 1983 to over 60 countries to WHO/UNICEF. Dr. Pandav was awarded the Mother Teresa Memorial Award for his excellent work in the area of Universal Salt Iodization (USI) on December 2016 in Kolkata. . Dr. Pandav has been working in the areas of Iodine Deficiency Disorders (IDD), Micronutrients, Health Systems Research, Health Economics, Health Policy, Health Programme evaluation, Public-Private Partnership & Human Rights Issues. Dr. Pandav is Co-Editor of 14 books on Health Sciences and authored about 400 research papers published in various National and International Journals.
3) Late Dr J N Pande- Another AIIMS doctor on the list, Late Dr Jitendra Nath Pande was an eminent pulmonologist and former head of the Department of Medicine at the All India Institute of Medical Sciences., who had succumbed to COVID-19 last year. He joined AIIMS as an MBBS student and retired as the head of the Department of Medicine.To his students, colleagues and patients, Pande was a great clinician with uncanny diagnostic skills , a great teacher, a stickler for punctuality, an academic, and a doctor who could repair medical equipment on his own. Known fondly as an encyclopaedia of medicine and a pioneer of critical care in northern India, Pande taught and inspired a generation of doctors and medical professionals at AIIMS.
His team's study on 'Outdoor air pollution and emergency room visits at a hospital in Delhi' in 1997-98 was referred to by the Supreme Court of India in its judgment banning diesel buses in Delhi in 1998. His research focused on high altitude physiology, lung mechanics in health and disease, exercise physiology, and interstitial lung disease (a group of diseases that affect the interstitium or the network of tissues that supports the air sacs).
4) Dr. Krishna Mohan Pathi- Odisha- Retired Professor Dr Krishna Mohan Pathi, known as a messiah for the poor and tribals in the area of Ganjham, has been providing free healthcare service to tribals in the area for more than 3 decades. An Orthopaedician by profession, the 83 year old Dr Pathi runs a charitable organisation Bharadwaj Gurukul Ashram.
Prof Pathi joined as a teacher of medicine and served in all the three state-run medical colleges of Odisha. He was the Professor and HoD of Orthopaedics Surgery-cum-Principal VSS Medical College Burla and Superintendent-cum-Principal MKCG Medical College, Berhampur. Post his retirement, he returned to his village, Sukunda near Berhampur in Ganjam district to fulfil his father's dream
The physician also has many records to his credit. He has featured in the pages of the Limca Book of Records, 1990 (Page 87-88 Sciences and Medicine section), when he was a professor and HoD-orthopaedic surgery at MKCG Medical in 1988. He made to the Limca Boom for a rare surgery in those days. In March 1988, Dr Pathi operated upon one Pramodini Kumari Panda of Purushottampur village and helped her eat food using her mouth for the first time since birth.
5) Dr. Dhananjay Diwakar- Kerala- A native of Maharashtra who went to Wayanad is known for his selfless service and invaluable contributions to people particularly the tribals of the area. Dr Diwakar, as invited to Wayanad first by RSS leader late Bhaskar Rao when a mystery disease stalked the tribal settlement in Wayanad. Dr Dhananjay is one of the founders of the Swamy Vivekananda Medical Mission set up for the welfare of tribal people in Wayanad.
6) Shri Ashok Kumar Sahu -Uttar Pradesh
7) Dr. Bhupendra Kumar Singh Sanjay- Uttarakhand - An orthopaedic and spine surgeon by profession, and a PGIMER post graduate Dr Bhupendra Kumar Singh Sanjay has dedicated his practice to promote road traffic safety. He has organised 225 free health camps and made it to India Book of Records in 2017. Sanjay said his focus has been to decrease disabilities through free camps and free consultations to the poor every second Saturday of a month. He is a recipient of awards like Uttarakhand Ratna (2002). Sanjay is also a fellow of the International Medical Sciences Academy.
8) Dr. Dilip Kumar Singh - Bihar- The oldest entry in the list of doctors, this 92-year-old still goes to practice every day. Dr. Singh, who is known as the 'God Father' of the Indian Medical Association Bhagalpur (IMA Bhagalpur), he has been on the forefront of establishing a strong village practice and providing medical care. HE was working night and day when In 1953, cholera spread in many blocks of Bhagalpur, while also being an important contributor to the treatment of polio in the country
9) Dr. Thiruvengadam Veeraraghavan (Posthumous) - Tamil nadu- The two rupee doctor from Tamil Nadu, who had been serving the underprivileged in North Chennai for more than four decades has had a marvelous story to back his glorious life. He was asked specifically by his patients to increase his fee. The doctor responded by increasing the fee to Rs 5. When more doctors of the area objected asking him to increase his fee to Rs 100, he stopped taking fee altogether. Born to Veeraraghavan, a farmer and Radhabai, he did his schooling in the Thyagaraya School and then did his medicine from Government Stanley Medical College. He passed away in 2020