Violence at AMU: COVID suspected patient's relatives assault resident doctors, throw oxygen cylinder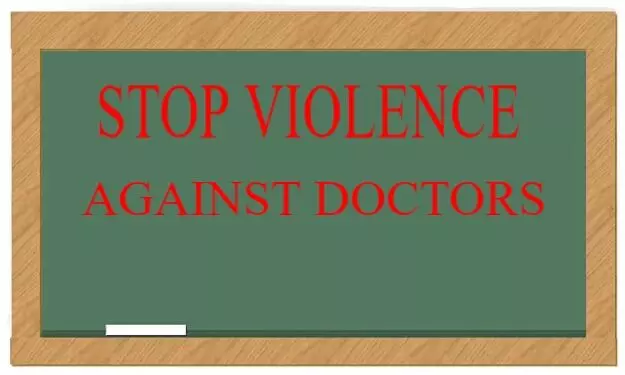 Agra: In a shocking incident, a COVID-19 suspected patient's relatives recently assaulted on-duty resident doctors attached to Aligarh Muslim University (AMU) and threw an oxygen cylinder at them after being informed about the unavailability of ICU beds and ventilator. The attackers also allegedly made an attempt to tear the PPE of one of the women doctors
The incident took place on July 20 around 1:30 pm when a 55-year-old COVID-19 suspected patient was admitted to the hospital's trauma ward, who was suffering from dry cough, breathlessness, and respiratory trouble for the past couple of days.
After being admitted suddenly the patient's oxygen level started falling down but due to the unavailability of ventilators, the doctors informed the relatives and advised them to take the patient to another hospital immediately.
However, instead of acting on the doctor's advice, the patient's relatives started hurling abuses at them and allegedly manhandled them as well. The four of the attendants of the patient allegedly assaulted the doctors on duty and tore off their PPE masks. The patient died in the hospital later.
The CCTV footage of the incident has been shared on the social media platform and it has been also informed that AMU Medical College decided not to work in Trauma award until the arrest of the attendants.
Triggered by the allegedly manhandling and assault by the attendants, the Resident Doctor Association moved a complaint with CMO stating that "As soon as we explained this to the patient's attendants along with her grave prognosis, they started abusing us and got physically violent They also gave us life threats and made an attempt to tear the PPE of one of the women doctors. One of the attendants tried to throw an oxygen cylinder over us with an intention to kill us but somehow we managed to save ourselves."
An FIR was registered against the four attendants of the deceased for allegedly manhandling the doctors and the staff and the accused were placed under arrest by the police late at night.
Civil Line circle officer Anil Samanya told TOI that four persons were booked under section 323 (voluntarily causing hurt) 353 (whoever assaults or uses criminal force to any person being a public servant in the execution of Duty), 504 (International insult with intent to provoke breach of the peace) and 506 (criminal intimidation) of IPC on the basis of the complaint filed by the doctor.
However, two of them have been granted bail on human humanitarian grounds to perform the funeral rites of the deceased while the rest of the two you will be presented on the court. The medical community has been greatly concerned by this kind of behaviour of the attendants.
Source : with inputs