IMA Junior Doctors Network appoints new office bearers for National Council 2021-22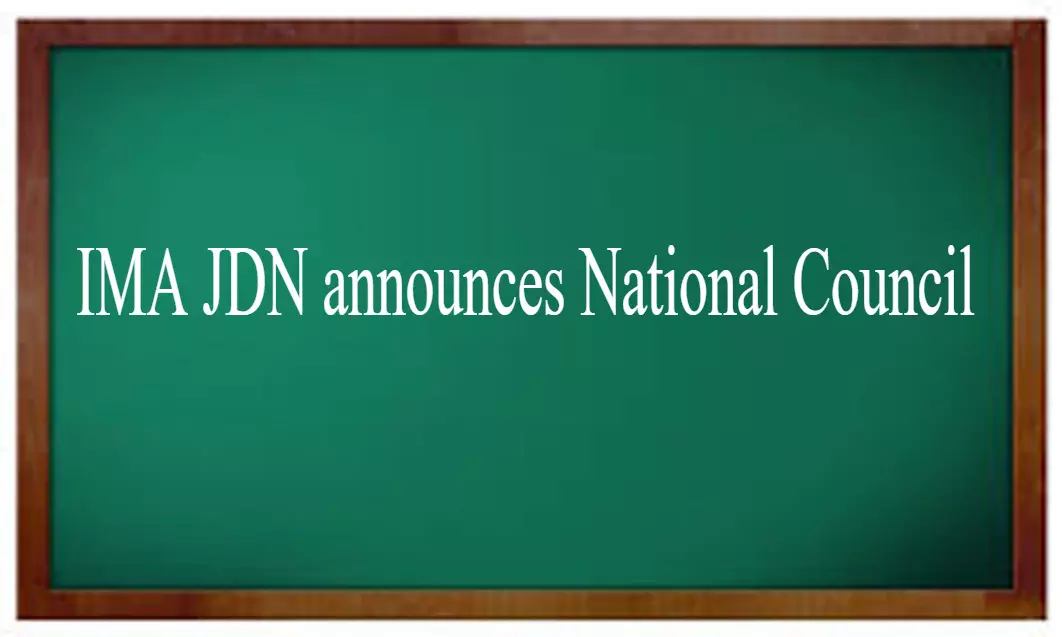 New Delhi: The Indian Medical Association (IMA) Junior Doctors Network (JDN) has recently announced the names of the newly appointed office-bearers of the National Council for 2021-22.

A total of ten doctors have been given the charge of various posts in the Council and six medical practitioners have been named as Committee Chairs.
Dr Shiv Joshi from Maharashtra has been designated as the National Convener for IMA JDA, while Dr Karan Juneja from Delhi has been selected as National Secretary-General.
According to a recent statement by the Association, both the doctors have already taken charge of their respective duties from March 30th.
Among the other members Dr Akshay Yadav from Maharashtra, Dr Ashwin Surjit from Kerala, Dr Shravan Dave from Gujarat, and Dr Rajeev Ranjan from Bihar will be serving as the National Co-Convener for IMA JDA. Dr Arvind Swamy from Delhi has been assigned the duty of joint secretary for headquarters liaison, while, Dr Shankul Dwivedi from MP, Dr Manikandhan Mohandoss from Tamilnadu, Dr Tanveer Dahiya from Punjab, and Dr Krishan Kant from Haryana are the National Joint Secretaries for IMA JDN.
Meanwhile, the Committee Chairs include Dr Rakesh Kaul from Jammu Kashmir (Job Opportunities), Dr Simran Kala from Delhi (Social Media), Dr Akshay from TM (leadership development), Dr Rimy Dey from Assam (postgraduate studies), and Dr Tejaswi from Karnataka (medical entrepreneurship) and Dr Manish Chandra Prabhakar from Delhi (research).
Speaking on the appointment, IMA JDN National Convenor, Dr Shiv Joshi told Medical Dialogues," I have been associated with IMA since 2014. I have been appointed as the national convenor for 2021-2022."

When questioned about their future plans, he stated, " Basically, our prime concern now is to raise awareness against mixopathy. We want to ensure that the stream remains pure. Modern medicine should only be practised by trained medical professionals and the same goes for traditional medicines also. Both streams should progress in their own fields separately. Our second priority is working on resolving the issues related to long working hours and salary-related problems."

The newly appointed National Secretary-General, Dr Karan Juneja also said that the prime focus of IMA JDN will be on the issue of Mixopathy. He told Medical Dialogues, " I have been associated with IMA since I was a medical student and I graduated and started working for JDN also. I myself participated in a relay hunger strike for 14 days to raise concern against Mixopathay and also secured support from all the leading medical colleges of Delhi. So, obviously, mixopathy is a glaring issue right now. We are hoping to keep the individual sanctity of each stream of medicine. The public health care is our priority."
He also stated that IMA took note of the rural healthcare also and almost 1500 medical professionals have expressed their eagerness to perform rural services. " However, rural services should not be forced." added the doctor.
Dr Juneja further stated, " IMA's long-sought demand is setting up of an Indian Medical Service (IMS), on the lines of IAS, IPS, and IFS, to bring about a drastic change in the healthcare sector. The initiative would be able to bridge the gap between decision and deliverance. "
Expressing his happiness after being selected as a member of the new council, Dr. Akshay Yadav National Co-Convener for IMA JDN said, " Since the beginning of JDN I have been associated with IMA JDN. This has been a unique and great experience. When I was the state president of IMA MSN Maharashtra. I held several social campaigns like anti-tobacco campaigns."
Talking about the future initiatives of IMA JDN, he stated, " It is essential to raise awareness against the quacks as they will affect the all over healthcare. It has to be made sure that without a proper MBBS degree none can exercise modern medication."