Union Health Minister Dr Harsh Vardhan resigns, Mansukh Mandaviya takes charge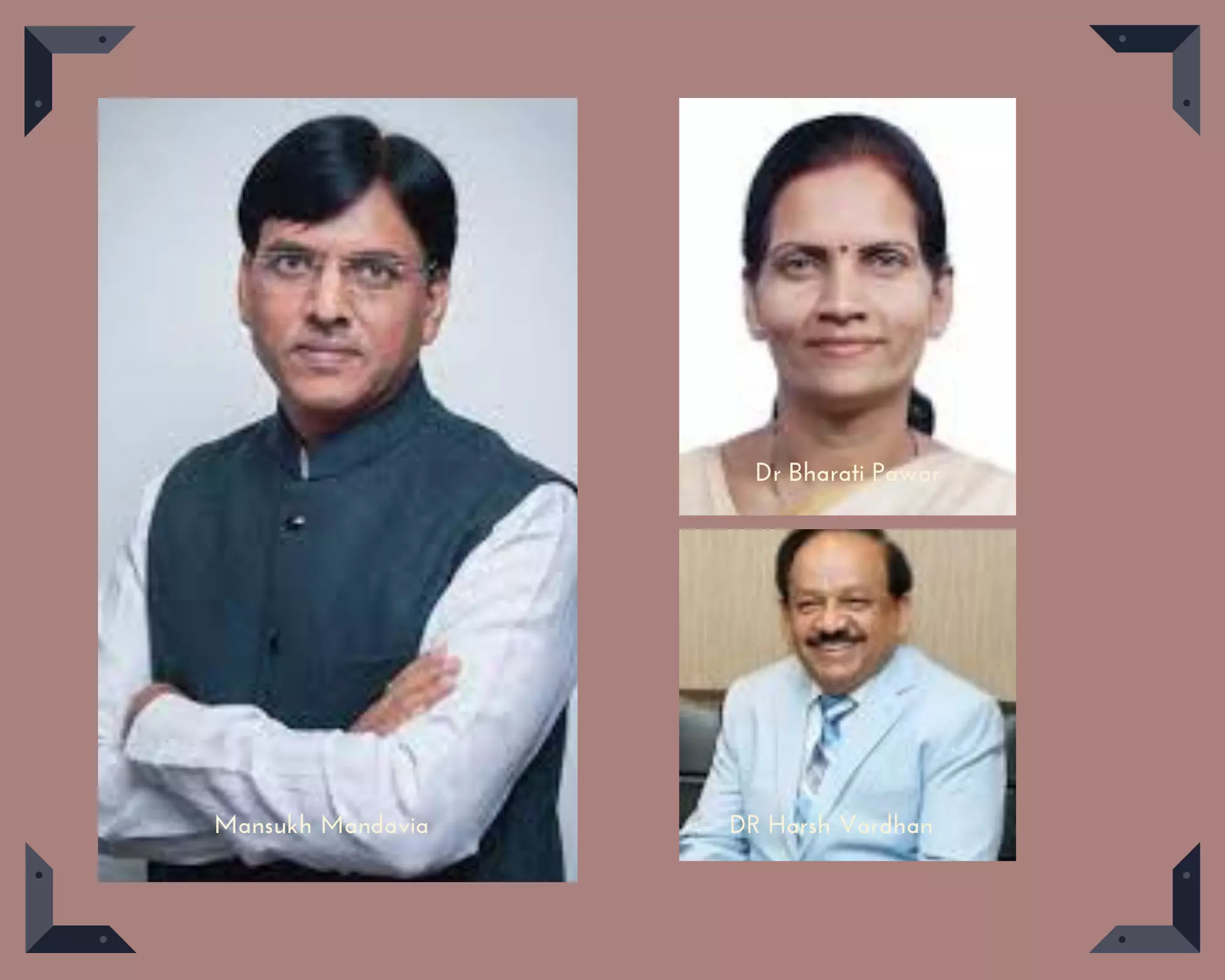 New Delhi: After holding the office of Health Minister and spearheading the health sector for more than 2 years, the ENT Surgeon Dr Harsh Vardhan has tendered his resignation with Shri Mansukh Mandavia now taking the charge. This comes as a part of a major Cabinet Reshuffle wherein as many as 43 leaders took oath as Union Ministers.
MOS Health Ashwani Kumar Choubey also resigned ahead of Union Cabinet's expansion. Dr Ashwani's Charge as MOS health has now been handed over to Dr Bharati Pawar an MBBS doctor turned Politician
Mansukh Mandavia to head Combined Ministry of Health Ministry with Chemicals and Fertilizer
Amidst the reshuffle, Shri Mansukh Mandavia, who was serving as a junior minister for Ports, Shipping and Waterways, Chemicals and Fertilizers, has been handed over the charge of the health ministry. It is reported that the Health Ministry will be combined with the Ministry of Chemical Fertilizers to be handled by the Minister

Mandavia is a Rajya Sabha Member from the state of Gujarat who holds a degree of MA in Political Science from Bhavnagar University. He joined politics in the 1990s and was became the youngest MLA in Gujarat in 2002. Mandaviya was born in a small village named Hanol in Palitana taluka of Bhavanagar district in Gujarat State. Born to a middle-class farmer family, he is the youngest among 4 brothers.
In 2019, he was given the charge of Minister of State (Independent Charge) for Shipping and Minister of State for Chemicals & Fertilizers and has been known for his padyatras connecting villages and remote areas as well as riding a cycle to the parliament. His daughter a final year MBBS medico in Gujarat, joined as a frontline health worker at the position of an intern doctor at a Covid hospital in Vadodara during the peak of the pandemic in April 2021.
Moldavia has himself been praised for his prompt response and management of the supply chain of medicines as well as oxygen during the COVID-19 crisis
Dr Bharati Pawar is the new MOS Health
The new MOS health, Dr Bharati Pawar is a 43-year-old doctor turned politician who completed her MBBS degree in 2002 from NDMVP's Medical College, Pune University. Dr Pawar is also a medical practitioner and farmer. In 2019 she was elected to the Lok Sabha from Dindora constituency in Maharashtra and has served as a member of the Standing Committee on Health and Family Welfare.
Outgoing minister, Dr Harsh Vardhan lead the country's health system throughout this unprecedented COVID-19 crisis and termed the doctors along with all the healthcare workers of India as COVID warriors for their selfless service and sacrifice during the pandemic. Last year, he had announced a new category called 'Wards of COVID Warriors' in the guidelines for selection and nomination of candidates against Central Pool MBBS seats for the academic Year 2020-21.

An ENT surgeon by profession, and a BJP stalwart, Dr Harsh Vardhan was appointed the Union Minister of Health and Family Welfare in the year 2019 for the cabinet appointment of the Modi Government 2.0. He was additionally been given the charge of two more ministries including the Ministry of Science and Technology; and the Ministry of Earth Sciences.
Dr Harshvashdhan pursued his MBBS and MS (ENT) from GVSM Medical College in Kanpur. In 1992, he was elected as a member of the Delhi Assembly representing Krishna Nagar after which he served as the Health Minister for the Delhi State. He holds to his credit the successful implementation of the pilot project of the Pulse Polio Programme which involved the mass immunisation of 1 million children up to the age of 3 in Delhi. The programme was soon launched nationwide leading to 88 million children being immunised.