JB Chemicals brings ready-to-use Liquid formulation for Pediatric Constipation under brand name LAXOLITE in India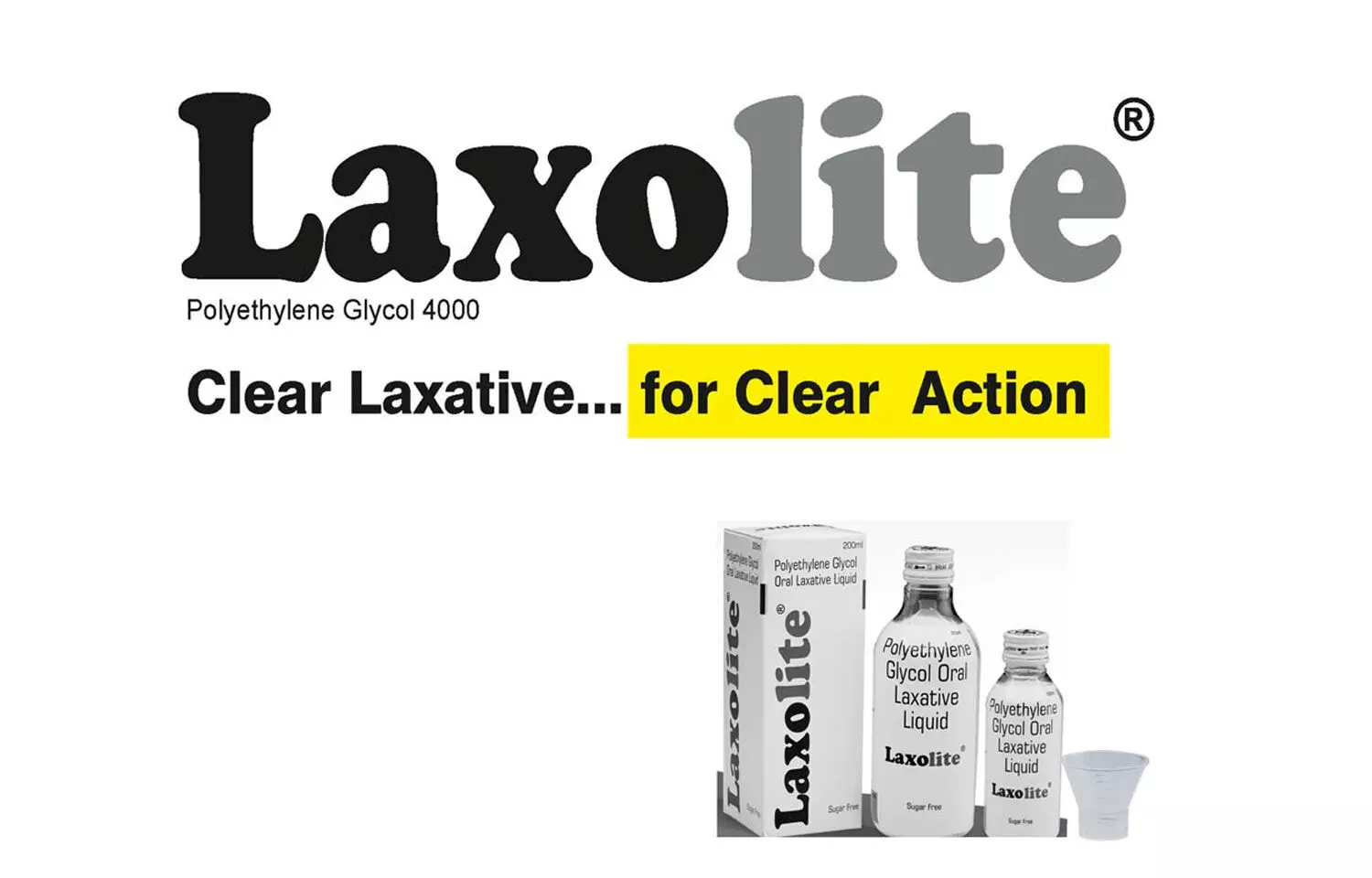 New Delhi: Bringing an effective and tasty remedy to deal with the problems of childhood constipation, JB Chemicals and Pharmaceuticals Ltd (JBCPL) has introduced a ready-to-use liquid formulation of Polyethylene glycol (PEG) 4000 in India under the brand name Laxolite (Each 25 ml pack containing 10 gm of PEG 4000).

"The launch comes keeping in mind the compliance factor for pediatric patients suffering from constipation requiring long-term therapy. The liquid formulation is ready-to-use, requires no dilution and hence smaller volume of administration, making it child-friendly when used for long-term. Also, it is extremely easy for the parent's to give it to their kids as it can be mixed with any beverages including fruit juice, milk, water, and likewise. Besides, the formulation tastes better as compared to other PEG formulations available in the market," explained Mr Savya Sachi, President, Sales & Marketing, JBCPL
Constipation is a highly prevalent problem in Indian Children, with more than 50% of its incidence lying in the age-group of 2-4-year-old. Further 95% of the patients have functional constipation, characterized by a child having painful defecation, following which he/she voluntarily withholds the stools leading to the vicious cycle.
PEG is a type of osmotic laxative commonly used nowadays, in the pediatric population as it is minimally absorbed in the gastrointestinal tract and is not metabolized by colonic bacteria. Till now, PEG having molecular weight of 3350 termed PEG 3350 was commonly given to children by mixing it with electrolytes and water.
"The problem with PEG 3350 with electrolytes is that it can only be mixed with water, requires exact dilution measurement and is salty in taste which leads to non-compliance of pediatric patients. Further, it can cause nausea in some children and also requires dose corrections regularly in case of long-term therapy," added Mr Savya Sachi.
To tackle, these shortcomings of PEG 3350, JB Chemicals and Pharmaceuticals have now launched PEG 4000 liquid formulation that comes in as ready-to-use, sugar-free, sodium-free and water-soluble colorless liquid.
"PEG 4000 is available for use in more than 23 countries internationally and is approved for use in pediatric constipation from 6 months of age. Both Indian & International Pediatric guidelines recommend use of PEG 4000 in childhood constipation. Laxolite liquid is available in two pack size 100 / 200 ml & the packaging comes with an accurate measuring cup that makes it easier for the parent to administer the daily dose to their kids. In addition, daily dose of Laxolite can also be split between morning and evening doses, depending upon the intake capacity of the child ," he further explained.
Laxolite is a prescription drug, available against prescriptions of registered medical practitioners only.
Established in 1976 by Shri J.B. Mody, J. B. Chemicals & Pharmaceuticals Ltd. (JBCPL) is one of India's fastest-growing pharmaceutical company, with its popular gastro products like Metrogyl & Rantac. The company is also having anti-hypertensive range in India with commonly prescribed formulations such as Nicardia (Nifedipine), Cilacar (Cilnidipine) and with recent launch of Azovas (Azelnidipine) it has acquired a nickname in the pharmaceutical industry as the "House of CCBs".
The above article has been published by Medical Dialogues under the MD Brand Connect Initiative. For more details on PEG 4000, click here