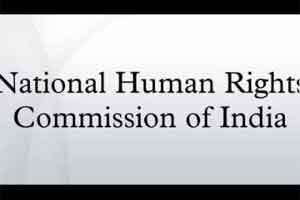 New Delhi: The National Human Rights Commission (NHRC) issued a notice to Delhi Government over reported refusal by its hospitals to admit a serious patient due to one or the other reason.
The commission has observed that it is not clear why the patient cannot be temporarily admitted in any other general ward or ICU of any other specialty in case of shortage of a bed in a particular wing of a hospital.
NHRC member Justice D. Murugesan made these observations while issuing notice to the Principal Secretary (Health), Government of NCT of Delhi after taking suo motu cognizance of a media report about how Satish Kaushik, a senior citizen, who suffered brain haemorrhage, had to be shunted out from one Delhi Government hospital to another, either because of the shortage of a bed or non-availability of a Neurologist. Justice Murugesan has given him four weeks to respond.
According to the media report, carried on January 27, 65-year-old, Satish Kaushik, resident of Mayur Vihar Phase III, Delhi, suffered brain haemorrhage on January 25.
He was taken to the Lal Bahadur Shastri Hospital which referred him to the G.B. Pant Hospital due to lack of Neurology treatment facilities.
The G.B. Pant Hospital refused to admit him pleading non-availability of beds and late arrival of the patient four hours after the stroke.
Reportedly, somehow, the patient was admitted in the L.N.J.P. Hospital but again referred back to the G.B. Pant Hospital due to non-availability of Neurologist and the G.B. Pant Hospital refused him admission yet again due to non-availability of bed.
Finally, he got admission at the Dr. R.M.L. Hospital, where he was being given treatment.
The Commission has also observed that it expressed anguish on such incidents in the recent past as well and emphasized the need to strengthen the health facilities while taking up the matter with the Government of NCT of Delhi.
0 comment(s) on NHRC issues notice to Delhi Govt. for neglecting serious patients