NHRC sends notice to UP govt on eye surgeries in torchlight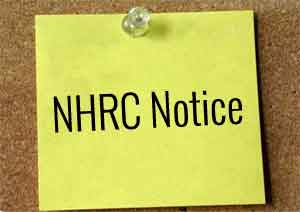 New Delhi: The National Human Rights Commission (NHRC) has taken suo motu cognizance of media reports about eye surgeries of 32 patients under torchlight at a Primary Health Centre in district Unnao, Uttar Pradesh on the 25th December, 2017.
The Commission has observed that the contents of the media reports reveal negligence on the part of the doctors and are a sad commentary on the status of infrastructure facilities available in the hospitals in Uttar Pradesh, particularly non-availability of backup power supply in the hospital, especially in the operation theatre.
Accordingly, it has issued a notice to the Chief Secretary, Govt. of Uttar Pradesh calling upon him to furnish the following information within two weeks:
i) The details of 32 persons (or any other number), names, address and phone number who were operated on 25.12.2017 at Primary Health Centre, Nawabganj, Unnao, UP.
ii) Whether the operated persons (specify each one of them) have been able to see normally/clearly after the operation?
iii) Why there was no backup power supply in the hospital especially in its operation theatre?
iv) What action has been taken against the doctors and hospital management for performing cataract operations in torch's light?
v) Have the doctors been performing operations under the torch light earlier?
vi) In case of power break down in the hospital, what alternative source of light is used to overcome darkness?
According to the media reports, when the procedure for surgeries began, the power supply to the Primary Health Care Centre failed but instead of stopping the surgery, the doctors went ahead with the operations under the light of torch. The incident prompted authorities to transfer the district's top health official and to suspend a doctor for negligence and violation of norms.
Read also: Plight of Patients, Doctors: Cataract surgeries carried under torch light, doctor suspended