NIMS Doctor attacked by Patient's Relatives under alcohol influence; Doctors stage protest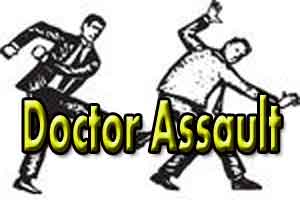 Hyderabad: A doctor at the state-run Nizam's Institute of Medical Sciences (NIMS) was recently attacked by a patient's attendants, who under the influence of alcohol accused the doctor of negligence in treating the patient and manhandled him.
In response to the incident, the fellow doctors at the institute had staged a protest.
As per the recent media reports, claiming to be supporters of a minister, two to three persons attacked the doctor, alleging negligence in the treatment of the injured patient. The eyewitnesses informed that the patient's relatives were in an inebriated condition.
The video of the attack at NIMS apparently went viral on social media.  According to a recent report by PTI, the incident occurred at around 6 am on May 20th. The patient sustained injuries following a road accident and was brought in at 4.22 am.
The patient was given the necessary treatment and shifted to the CT scan room and then taken to the ultrasound room.
The attendants found the room allegedly locked following which they immediately started manhandling the doctor, police informed. They created a ruckus and attacked the doctor in the Emergency Wing, where their relative was undergoing treatment.
Read Also: Hospitals Heads to be held Non-complaint if Institutional FIR not filed in Doctors assault case
They also hurled abuses at the duty hospital staff and accused the doctor of "negligence" in treating the patient, police said based on a complaint lodged by the duty resident doctor.
Read Also: RML Hospital: Patient's family assaults female Resident doctor
A case under IPC section 332 (voluntarily causing hurt to deter public servant from his duty) was registered at Punjagutta police station, an investigation official informed, adding no one has been arrested.
A group of doctors staged a protest on the hospital premises seeking action against those responsible for the incident.
Earlier this month, the relatives of a patient barged into the hostel of resident doctors and tried to assault them, adds IANS.
The doctors had met Telangana Health Minister E. Rajender on Sunday, seeking additional security in view of the increasing incidents of attacks.