Nipah Virus Outbreak: Dr Harsh Vardhan examines situation; says No need to Panic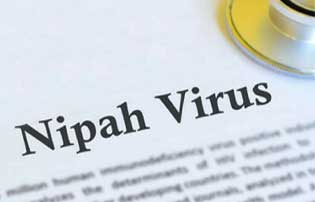 New Delhi: The Union Minister of Health and Family, Dr Harsh Vardhan while closely monitoring the situation arising out of reported cases of Nipah Virus in Kerala has urged the people not to panic as the Government is leaving no stone unturned to remedy the situation.
"I am personally reviewing the situation with the State Health Minister of Kerala, Smt K. K. Shailaja on a regular basis. Ms Preeti Sudan, Secretary (HFW) and other senior officers are also in touch with their counterparts in the State for daily feedback and updates," Dr Harsh Vardhan said.
The central team deployed under the directions of Union Minister of Health and Family Welfare, Dr Harsh Vardhan had a meeting with the Health Minister of Kerala, Smt K. K. Shailaja, and also interacted with district collector of the affected district.
Read Also:Kerala: Nipah virus CONFIRMED; AIIMS Doctors reach Kochi
The key focus of the meeting was on updating of contact list (line listing with contact details) by HCW, daily follow up for symptoms, self-monitoring and use of PPEs for symptomatic contacts.
The team also discussed categorization of contacts into priority contacts (family contacts, HCW of health facilities) and plan SOPs for quarantine of symptomatic contacts, sample collection/testing and dedicated isolation facility with trained health staff for care of cases and epidemiological investigation by Multidisciplinary Central team to ascertain the possible source of infection, history of exposure (exposure to infected animals, primary or secondary).
Public Health measures have been instituted by the State Health Authorities including a designated Control Room has been established at Office of District Collector, Isolation facilities ensured at some of the Medical Colleges. All health care facilities are directed to ensure a high index of suspicion in cases with similar symptoms and also ensure availability of isolation and emergency management facilities before referral and core group to meet on a daily basis to review and monitor the situation.
The confirmation of NiV came after a 23-year-old patient tested positive with the virus. He is currently stable. Thereafter, a six-member medical team including doctors from All India Institute of Medical Sciences (AIIMS), New Delhi reached Kochi in the wake of Nipah virus outbreak in Kerala.
Read Also: Kerala: Nipah virus CONFIRMED; AIIMS Doctors reach Kochi
The current status of Nipah outbreak is that the condition of one positive case is stable and 6 persons admitted to a quarantine facility at the Government Medical College in Kerala's Ernakulam have tested negative for the potentially deadly Nipah virus
What is Nipah Virus?
Nipah virus (NiV) infection is a newly emerging zoonosis that causes severe disease in both animals and humans. The natural host of the virus are fruit bats of the Pteropodidae Family, Pteropus genus.


Fruit bats of the Pteropodidae family are the natural host of the Nipah virus. Nipah virus can be transmitted to humans from animals (such as bats or pigs), or contaminated foods and can also be transmitted directly from human-to-human.


According to the WHO, Nipah virus is a newly emerging disease that can be transmitted from its reservoir (natural wildlife host), the flying foxes (fruit bats), to both animals and humans. It takes its name from Sungai Nipah, a village in Malaysia where it was first identified.


Symptoms range from asymptomatic infection, acute respiratory infection (mild, severe), and fatal encephalitis. Infected people initially develop influenza-like symptoms of fever, headache, myalgia, vomiting and sore throat.


This can be followed by dizziness, drowsiness, altered consciousness, and neurological signs that indicate acute encephalitis.


Some people can also experience atypical pneumonia and severe respiratory problems, including acute respiratory distress. Encephalitis and seizures occur in severe cases, progressing to coma within 24 to 48 hours.


Read Also: Nipah Virus resurfaces in Kerala