Nipah Virus would have gone unnoticed, if it werent for these Three Doctors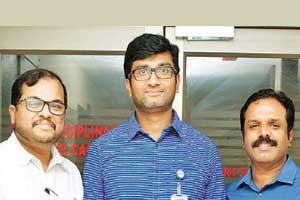 Kerala: The possibility of an infection, which was never seen before in India later identified as Nipah Virus (NiV) was only realized thanks to the skills and quick-thinking of three doctors attached to Baby Memorial Hospital. (From left: Doctors Ganga Prasad, Ajith K Gopan and Anoop Kumar)
The On May 17, one Mohammed Salih was admitted to Baby Memorial Hospital with suspected viral encephalitis, an infection of the brain. While the differential may have missed by many; Dr Anoop Kumar, Consultant and Chief of Critical Care Medicine at the hospital showed concern
Speaking to HT, he recalled "His clinical symptoms were not typical of the usual type of encephalitis. We started observing him closely. When he started showing strange symptoms we summoned one of his attendants and he told us his brother died with similar symptoms two days ago."
When the patient was slowly dipping into a coma, the doctors at the hospital decided to shift him to the critical care unit and kept a safe distance from other patients.
Considering the seriousness of the infection, Dr Anoop immediately spoke with two of his young colleagues, Dr Ajith K Gopan (Consultant in Critical Care) and Dr Ganga Prasad (Consultant and Dy. Chief of Critical Care Medicine), who agreed the fact that they were dealing with a new kind of symptoms likely triggered by an unknown virus.
"Then we asked his relatives whether anybody else had similar symptoms. They said three family members had similar symptoms. We asked them to come to the hospital and examined them. Of the three, the condition of two of them deteriorated rapidly. So, we realised we are dealing with an unusual and lethal situation," Dr Anoop told the New Indian Express.
Later, on the same day, the doctors sent body fluid samples of the four patients to the Manipal Centre for Virus Research in Karnataka. The doctors consulted with the neuro department and came to the conclusion that it was Nipah.
"Encephalitis from the herpes simplex virus is sporadic and rarely occurs within a family. Japanese encephalitis doesn't occur within a family, either - you see about one case in a village during an outbreak," Dr Arunkumar, Manipal Centre for Virus Research told the Telegraph. "The rapid deterioration and the cluster from a family were warning signs of Nipah."