NITI Aayog report on Health: Haryana CM voices concern on figures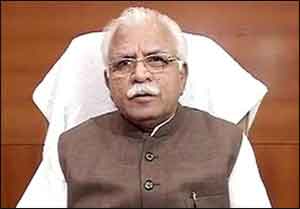 Chandigarh: Haryana Chief Minister Manohar Lal Khattar has directly conveyed his concern to NITI Aayog Vice Chairman Dr Rajiv Kumar for the Aayog having relied on dated and sampling data in its recent report titled 'Healthy States, Progressive India' that makes it appear that Haryana's performance in health sector is declining.
During the meeting between the two here today, the Chief Minister clarified that data for 2016-17 was readily available at the time of the report and had it been taken into consideration significant improvements registered by Haryana on all indices compared with 2015 would have easily been recognized.
In a note that the Chief Minister handed over to NITI Aayog Vice Chairman, it has been clarified that Neonatal Mortality Rate (NMR) has actually shown a two point decline from 24 in 2015 to 22 in 2016 whereas the report cites the previous increase from 23 in 2014 to 24 in 2015. Similarly, the Under Five Mortality Rate has declined from 42 in 2015 to 37 in 2016 whereas the report cites the previous increase from 40 in 2014 to 42 in 2015. The full immunization coverage which the report shows increased from 82.54 in year 2014 to 83.47 per cent in 2015 has further improved to 89.13 per cent in 2016.
It is further clarified that as per NITI Aayog report, Sex Ratio at Birth (SRB) as per Sample Registration System (SRS) has declined from 866 per 1000 to 831 from Base Year 2012-14 to Reference Year 2013-15. This is based on Sample Registration System in which 251 sampling units in rural and urban areas covering only 2,35,000 population of state and providing information for the state only not district wise. However much more realistic information is captured through Civil Registration System (CRS) of Registrar General of India (RGI) that is capturing real time monthly data of all birth registered.
As per latest SRS 2014-16 the sex ratio at birth is 832 and as per CRS report the SRB was 900 for year 2016 and 914 for year 2017. The SRB data of CRS was also validated by third party agency
He said that it clearly reflects the efforts made by the state to improve the sex ratio at birth after launch of Beti Bachao Beti Padhao Abhiyan by Prime Minister Narendra Modi. These efforts have yielded encouraging results in sex ratio at birth.
He further said that with a view to improve the outcome of pregnancy and reducing the incidence of low birth weight babies, High Risk Pregnancy management policy has been devised and implemented by National Health Mission (NHM), Haryana. This has been appreciated by NITI Aayog and Union Ministry of Health and Family Welfare. Anaemia being one of the major causes of low birth weight babies, State has introduced the strategy of providing Iron Sucrose injections to the severely anemic pregnant women.