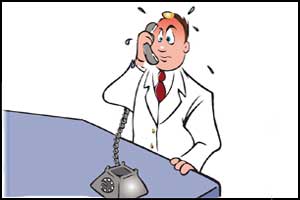 Doctors can share their contact details on their own and it cannot be made mandatory through an order or by law
Thiruvananthapuram: Making the fact clear that sharing the contact details of medical practitioners cannot be made compulsory by any law or order, the high court has stayed the Kerala State Consumer Disputes Redressal Commission order that mandated the doctors to provide their contact details to the patients.
TOI reports that the commission took this stern action, citing several pending cases where the hospitals claimed to be ignorant about the whereabouts of the doctors when complaints were registered against them by patients alleging medical negligence.
After observing the said justification given by some of the private hospitals in the medico-legal cases, the Consumer Disputes Redressal Commission issued the order on June 5, which ruled:
All private hospitals should maintain a register containing the contact details of all doctors working with them.
The hospital should furnish this information to patients upon request.
Failure to maintain a register to provide information would be treated as a deficiency of service under the Consumer Protection Act.
Subsequent to the issuance of the order, the Kerala Unit of Indian Medical Association moved to the High Court, arguing that the commission's directive was an infringement of the privacy of doctors.
Informing the high court about the doctors' work hours in the state, IMA State Secretary Dr N Sulphi, averred, "The doctors are already stressed with the workload and if the patients start calling them their work will become 24X7, which is humanly impossible. The specialist doctors work for 10 to 12 hours a day. It will be difficult for them if the patients start contacting them."
The IMA stated before the court that only the duty doctors and hospital authorities should be allowed to contact the doctors in case of an emergency, reports TOI.
"Hospitals are in possession of the contact details of all doctors working. Once doctors are out of the hospital after the duty hours, the duty doctors or other emergency staff can contact them at any time," Dr Sulphi stated.
Agreeing with the association's case, the high court, in its order, held that the doctors can share their contact details on their own and it cannot be made mandatory through an order or by law.
5 comment(s) on No need for Doctors to Share Contact Details with Patients: High Court