No operations as Cardiac Surgeons and Anaesthetists battle at GB Pant Hospital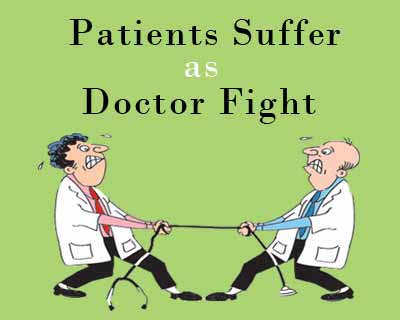 New Delhi: Internal discord between various functioning departments is a common phenomena in a hospital. Doctors of various departments are required to work towards the better health of a patient, and some times, despite all efforts, outcomes are not favourable. In such situation, human nature takes its toll, with doctors putting the blame of mishaps claiming other's incompetence. Ego issues arise and doctors then refuse to work with each other. Who suffers then?
Well in government hospitals, obviously poor patients.
A PIL has been filed in the Delhi High Court today, asking the Hon'ble court to interfere as Cardiac operations (CTVS) are not being conducted at GB Pant Hospital in New Delhi since 6th April, 2016 . The PIL asked for such a move claiming that "The general public is suffering due to ego tussle of the doctors"
The petitioner D.N Shrivastava, who runs an NGO called Tejaswi Astitva Foundation,  was approached by a number of patients who said that operations are not being performed at GB Pant Hospital  Upon enquiry from the doctors and anaesthetics, it was revelead that certain dispute arose between the CTVS Department and the Anaesthesia Department which has led to a situation where the consultants of Anaesthesia Department have  refused to give anaesthesia to a certain doctor of CTVS Department.
The patients have become the victim to this tussle, as many patients have been taken to the Operation theatres several times however, due to refusal of the Department of the Anaesthesia, they cannot be operated and their surgeries were being postponed.
Since GB Pant is one of the  main government hospital for Cardiology and Cardiac Surgeries, it is primarily the poor who are suffering.
The petitioner further informed that information about the same had been sent to both the authorities of GB Pant Hospital as well as Health Minister of Delhi, but no resolution of dispute came henceforth.
COURT INTERVENTION
The hon'ble bench of Chief Justice G Rohini and Justice Jayant Nath issued notices to the Health Ministry, Delhi government's health department, DMC and the hospital seeking their replies on the petition which has sought directions to the authorities to ensure essential services and medical treatment are not disrupted. The court has set 11-05-2016 as the deadline for the respondents to reply.
Srivastava, in his plea, has also sought directions to the doctors of the hospital "to perform their duty during the pendency of the writ petition" as well as initiation of "appropriate disciplinary action against the doctors who have refused to perform their duty".
The petition has also sought passing of "appropriate orders/directions/guidelines in the nature of code of conduct for hospital staffs like doctors, nurses, paramedicals etc. of the hospital for addressing their grievance without causing any disruption or prejudice to the smooth functioning of the hospital".