No Quota, Only Merit: Tailor's daughter clears NEET; joins MBBS at Madras Medical College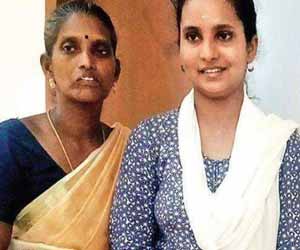 Chennai: Proving that Merit is the primary requirement to become a doctor, a Tailor's daughter has now cleared NEET and set to join MBBS at the prestigious Madras Medical College.
Beating all odds, a daughter of a Tailor has proved that hard work pays off, as she makes it to the renowned Madras Medical College under the open category on the second day of medical counselling, after securing 605 marks in the NEET examinations this year.
P Jeevitha stands out to be exemplary for all MBBS aspirants and her story is likely to inspire many that it is pure hard work and determination that helped in achieving her dream of becoming a doctor. A recent report in New Indian Express recounted her tale.
A student of Government Higher Secondary School in Anakaputhur, Jeevitha had secured 1,161 marks in the Senior Secondary Examinations. Thereafter, she joined a coaching class in the year 2018. However, she was able to score just 351 marks in NEET.
Not giving up on her aim to enter a medical college, she appeared for NEET once again this year
In her second attempt, she finally cracked it and secured a government medical seat in Madras Medical College under the open category.
Also Read: Bravo: Truck driver's son clears NEET 2019, set to join MBBS
Expressing her joy, Jeevitha stated that she aspires to offer a helping hand and guide all those who cannot afford to pay for NEET coaching classes.
"I don't know how to express my joy. I want to do gynaecology and obstetrics after MBBS, that is my favourite speciality. I'd like to help poor people like me who can't afford even NEET coaching classes. I will guide them and give whatever help I can," Jeevitha told The New Indian Express.
"I will definitely do service for the poor after finishing my studies. No other student should go through the difficulties I have gone through in my life. I will study hard, " she added.
Narrating her story she further added to the
daily
 "I went to a coaching class in 2017, but I could secure only 351 marks. My parents had borrowed money for my coaching. The fee was Rs 25,000. It disappointed me because I only know how difficult it was to repay the debt. But, I joined coaching class again which after concession charged me Rs 35,000. People were not that encouraging." But I took it as a challenge and scored 605. But, again I am worried because my parents cannot afford my education. My father is a daily wager and mother a housewife and I have one elder sister and younger sister. None of them are earning," Jeevitha added.
On hearing the news, several elites came forward to appreciate her effort and provide financial aid.
BJP State president Tamilisai Soundararajan, who is also a doctor herself will fund her medical education as she expressed that her family will not be able to afford her education as they belong to low-income group.
"After news reports, BJP State president Tamilisai Soundararajan came to our home and helped us financially. Not only Tamilisai, C Sylendra Babu, IPS and many others came forward and financially supported us. With that money, I could even pay Jeevitha's medical college fees," Jeevitha's mother, Bhavani told The New Indian Express.
"Many close to our family said it's not possible for her to pursue higher education. We have proved them wrong, " added Bhavani.