NO Sale of Syringes without Doctors Prescription in Punjab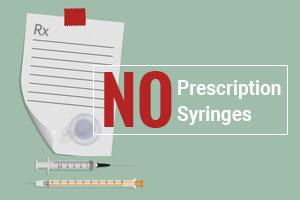 Punjab: Taking stern note of the drug menace across Punjab, the Deputy Commissioners or Additional Deputy Commissioners issued a complete ban on the sale of syringes without the prescription in several districts of the state.
The orders have been issued under section 144 of CrPC, in Fazilka, Bathinda, Faridkot, Ludhiana and Ferozepur districts.
Confirming the steps taken, Deputy Commissioner of Ferozepur, told The Indian Express, "We are following the advisory from higher authorities to take several steps to control drug problem. Banning the sale of syringes without prescriptions is one of them."
Syringes are being misused widely leading to loss of lives. President of Ludhiana District Chemist Association G S Chawla, informed, "Syringes are not covered under schedule-H1 of Drug and Cosmetic Act which makes it mandatory for chemists to keep a record of the buyers. But since they are being widely misused by drug addicts now, we issued instructions to all retailers and wholesalers on July 1 itself that they should not sell syringes without a prescription,"
What could be more life threatening and even more dangerous would be those moments when addicts go to the level of reusing syringes and picking them from garbage dumps and hence catching chronic infections and other diseases like hepatitis or HIV etc. Many times the addicts arrange them illegally.
"It is fine that government is banning the sale of syringes without a prescription. We do not have a problem with it but reuse of syringes is another problem," President Chawla stressed.
Easy availability of syringes is another bump within the issue of drug menace. Doubting the effective implementation of the ban, Surinder Duggal, General Secretary of Punjab Chemists Association, said, "The ban may not serve many purposes as syringes are freely available everywhere. The worst thing is that syringes, medicines and medical products are available online without any prescription. It may lead to the use of one syringe by many addicts. We have sent a memorandum to the government airing our concerns on the issue."
According the recent media reports, during the recent meeting of Punjab Chemists Association with health department officials, it was clearly conveyed to chemists that syringes could not be sold without prescriptions now as per the orders of Chief Minister Captain Amarinder Singh.
However, Principal Secretary (Health) Satish Chandra has denied the issuance of the order. He said, "The government had not issued any orders on sale of syringes… the department was studying the issue because several chemists had brought it to the notice of the department that the syringes were sold online, sold as a package with medicines."
Saying that the department did not want to cause harassment to genuine consumers by denying syringes to them, Chandra added, "For instance, diabetics dependent on insulin needed a new syringe every day. We cannot cause harassment. We will have to study the issue. We will work out the details on Monday."
"The unauthorised sale of syringes or any medical product had to stop. However, the chemists have certain worries over the issue and we need to address these. We may issue a detailed note on this on Monday," he told The Tribune.
SSP Naveen Singla informed TOI that if any police officer or employee was found dillydallying in drugs-related case, stern action will be taken against him or her.