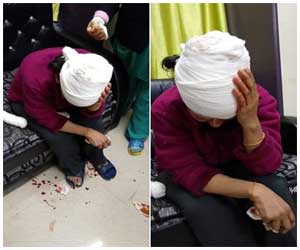 Following the death of a delivery patient, a mob attached the ICU of the hospital, and assaulted the staff including the gynaecologists with rods. 
Darjeeling: Violence against medical professionals is apparently reaching new disgusting heights, as is evident with the recent case of assault on a female gynaecologist who was beaten with rods by a mob after the death of a delivery patient in the ICU
The case of violence against the lady doctor came to light after pictures of her bleeding scalp went viral on social media.
................................ Advertisement ................................
The incident took place at the Darjeeling district hospital Darjeeling Sadar Hospital on Saturday night when a pregnant woman with a history of cardiac illness was brought by her family. The patient collapsed in the doctor's ward after which she was immediately rushed to the Coronary Care Unit (CCU) where the doctor conducted a ventouse delivery but the baby delivered was dead. The patient was intubated immediately after the delivery, but nothing worked and she also succumbed after a few minutes.
The news of patient's death reached the family of the deceased, the angry mob rushed to the hospital and started attacking the staff and vandalising the ICU. The worst casualty of the mob attack became the female Obstetrics and gynaecology consultant doctor who suffered on her scalp.
................................ Advertisement ................................
Despite severe opposition of the medical fraternity, instances of doctor bashing are only on the rise The Medical dialogues reported that few days back doctors at Safdarjung Hospital at Delhi went on strike after a doctor colleague was severely manhandled by a Delhi Police head constable's son who had come for treatment. The resident doctor on duty got mercilessly beaten by the patient and his relatives and has sustained severe injuries including nasal bone fracture
Read Also: Safdarjung Hospital: Patient Breaks Resident Doctor's Nose, RDA calls for indefinite strike
Author Details
Shagufta Joined Medical Dialogues has been associated as Editor for Education Medical Dialogues since the year 2018.  She is a graduate from Delhi University. She can be contacted at editorial@medicaldialogues.in Contact no. 011-43720751
................................ Advertisement ................................
42 comment(s) on No Stop on Violence: Gynecologist beaten with rods after patient dies in CCU