Not just Doctors, Medical Students to also have MCI Unique ID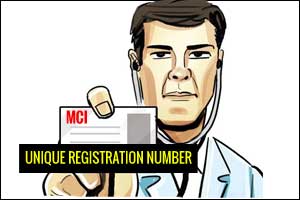 New Delhi: Moving towards complete digitisation of records of the medical personnel across the country, the health ministry has now proposed that each medical student will also have a unique ID given by the Medical Council of India.
Medical Dialogues team had earlier reported that the apex medical body had announced its move to have a new Indian Medical Register, whereby each medical practitioner in the country will have a unique permanent registration number. On similar lines, the health ministry has now come up with the proposal that the council should also generate and provide a unique ID to every medical student, upon their admission to MBBS courses across the country.
Read Also: Landmark: MCI to give Unique Permanent Registration Number to all doctors across the country
A recent meeting at the Health Ministry with MCI, CBSE, NBE as well as representatives of medical colleges, ended with the following advisory to the MCI
The chair advised MCI to generate unique ID online for every candidate when s,/he secures admission in a medical course so that the exact admission status is known for the entire country, particularly the number of unfilled seats by the last date of admission. This was also discussed during the presentation made by DMMp team of MCI in the Ministry.
The said unique ID, which can also be considered as a permanent roll number will be generated after registration with the Medical Council of India's (MCI) software, whose main role is to check malpractices in the admission process. The software has been developed under the initiative of Digital Mission Mode Project (DMMP) and will be functional from next year, a senior Health Ministry official informed Millenium Post.
The biggest advantage of the unique ID would be bringing transparency in the medical admission process and with the same, a student would not be allowed to back more than two seats. Further, the ID would remain permanent, even if the medical student moves from one medical college to another.
"The launch of software would help in checking frauds such as admitting a low-rank holder, admitting more students than the approved seats, filling the backlog seats, etc. The roll number generated after registering with MCI software would be linked to Aadhaar number, which would help in authenticating the identity of students," the official told
Millenium Post
.
Another benefit of the unique id would be real-time monitoring of medical admissions by the Council."Given that some medical colleges don't provide the correct admission figures to the MCI even after several reminders, the government and MCI would be able to monitor the whole admission process on a real-time basis. With the help of the software, MCI would able to know the exact time of admission and the number of vacant seats soon after the end of the last date of admission," a senior MCI official told the daily.
Read Also: How to get your Unique Permanent Registration Number with Medical Council Of India