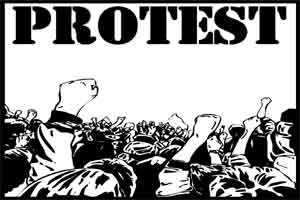 Allahabad : Doctors were up on their arms after sharp shooters gunned down an eminent surgeon A K Bansal, who runs a private nursing home Jeevan Jyoti in the city.
The doctors, under the banner of IMA, has called for a strike against the gruesome killing today in the city while doctors of the state could also join them.
UP police has engaged STF to trace out the criminals who shot four bullets from a close range at his chamber in the nursing home last evening.
Senior Superintendent of Police (SSP) Salabh Mathur told UNI here said two criminals shot at the doctor from a close range at around 1845 hrs last evening, when he was talking to the patients in his chamber at his hospital situated under Kydganj police station area of the city.
He said the doctor was immediately attended to by a team of doctors but he succumbed to the bullet injuries at around 2230 hrs.
The criminals entered the chamber of the doctor on pretext of being a patient and shot him on his head. Later, they pumped three more bullets to ensure that he is dead. Later, they fled from the back gate of the hospital.
The last rites would be performed this morning at 1000 hrs.
The SSP did not rule out involvement of contract killers in the crime. He said the CCTV footage is being examined by the police to know their identity.
The deceased doctor Bansal (59) was involved in several financial dispute in the past and was also attacked by bombs three months back. A builder was accused in the attack by the doctor.
The deceased doctor's wife is also a prominent gynecologist of the city and runs another private hospital.
0 comment(s) on Noted surgeon shot dead in Allahabad: Doctors protest