Now, Medical Publications, Journals under Medical Council of India scanner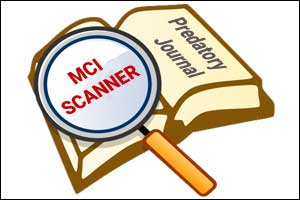 New Delhi: Publication in Journals is an important aspect of the development of a medical practitioner's career. Such publications including of original research, not only highlights  the academic bent of a doctor but in recent times have become a mandatory rule if a doctor wishes to move ahead in his/her academic career
The Medical Council of India (
MCI
), through its Minimum Qualifications for Teachers in Medical
Institutions Regulations has linked the publication of research as an essential requirement for appointments and promotions of teachers in medical institutions in India. While the basic rationale behind the essentiality of medical research publications has been that quality of teaching improves when medical teachers are involved in research, the purpose stood somewhat defeated when the said requirement led to the flourishment of the business of journals where publications could be received by paying a cost.
The council, aware of the growing menace, has addressed the issue in its recent meeting of the Postgraduate Medical Education Committee held in January 2018. The committee members observed
There has been a mushroom growth of journals, purely as business venture. They publish substandard articles and there are complaints that such publications are done for monetary considerations. MCI has become an indirect promoter of their business interests by making publications compulsory for promotion. It was noticed that 3-4 articles by same author have been published in same issue of the journal and at times, the author is not able to tell even the title of the article published under his name.

The very purpose for which certain number of publications were made compulsory for promotions thus stand defeated.
To nip the problem in the bud, the committee has decided that the council will now draw out the list of journals, which will be accepted as research articles for the purpose of benefit in promotions.  After detailed deliberations, the Postgraduate Committee resolved that –
1. A Committee of three experts be constituted by the President in each subject which will draw a list of standard journals by name (not by indexing or impact factor) and articles published only in those journals will be accepted as research articles for the purpose of benefit in promotions.2. A Standing Committee of MCI
be
constituted by the President which will hear representations from those journals which may feel left out in the first list and the Committee will have the power to include or exclude any journal from the list at any time.
The matter may be placed before the General Body, the minutes of the meeting added.