Nurse Death: AIIMS New Delhi names Bronchoscopy lab after her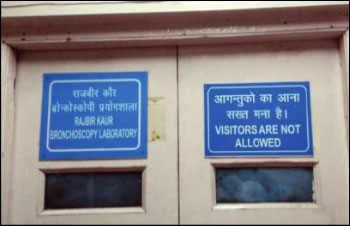 New Delhi: The All India Institute of Medical Sciences (AIIMS) has opened a Bronchoscopy laboratory named after one of its nurse late Rajbir Kaur who died at the hospital due to alleged medical negligence.
The incident took place last year when nurse Rajbir Kaur, 28, a nursing officer with AIIMS' medicine department, had been admitted to AIIMS for a normal delivery. Hours before the delivery, doctors found that the heartbeat of the fetus was slow, thus immediately taking the patient for an emergency cesarean. Family members of the nurse alleged that the anaesthetist arrived late, delaying the surgery.
The hospital at that time Rs 10 lakh compensation to deceased Rajbir Kaur family. "An amount of Rs 10 lakh compensation shall be paid to the next of kin of Nursing Officer, Rajbir Kaur, after due administrative approval. The compassionate appointment case of next of kin of Nursing Officer Late Rajbir Kaur may be processed expeditiously," said a statement issued by the AIIMS.
"Kaur was working in the bronchoscopy lab. She was popular among the nursing staff and faculty. Therefore, we have decided to name the lab after her. It will be formally inaugurated when the renovation is complete," Dr Randeep Guleria, director of AIIMS told TOI.
Harish Kajla, president of the AIIMS nursing union, said they are very happy with the institute's decision. "We had written to the administration to name one of the hospital's block or building after Kaur," he said.