Sitagliptin decreases blood sugar and visceral fat in women with PCOS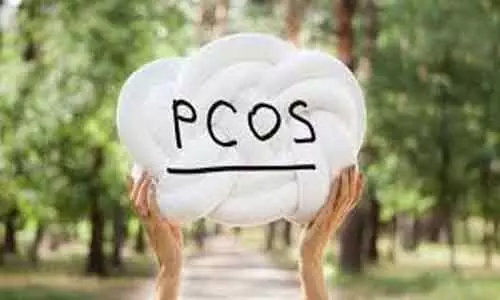 Nashville, TN: Sitagliptin decreases peak blood sugar and visceral adiposity (VAT) in women with the polycystic ovarian syndrome (PCOS), according to a recent study published in the Journal of Clinical Endocrinology & Metabolism. Further, Sitagliptin did not increase overnight GH (growth hormone) but increased GH half-life and the interpulse interval.
PCOS women have decreased levels of growth hormone that can result in increased VAT and impaired vascular function. These women are often overweight and are at increased risk for future cardiovascular disease and diabetes mellitus. Currently, there are no approved medical therapies for PCOS women. Management options include weight loss and medications aimed at controlling hirsutism or oligomenorrhea symptoms or treatment of insulin resistance.
An alternative strategy to enhance endogenous GH secretion in humans is to inhibit the degradation of endogenous GH–releasing hormone (GHRH) by the dipeptidyl peptidase-4 (DPP4) enzyme. Sitagliptin was the first oral DPP4 inhibitor approved by the US Food and Drug Administration (FDA) for the management of hyperglycemia in patients with type 2 diabetes mellitus.
Jessica K Devin, Vanderbilt University Medical Center, Nashville, TN, and colleagues tested the hypothesis that 1 month of DPP4 inhibition with sitagliptin would enhance overnight pulsatile GH secretion in overweight women with PCOS and improve glucose metabolism.
This double-blinded, crossover study included 18 women with PCOS. They were randomized to receive either sitagliptin 100 mg or placebo daily for 1 month with crossover treatments separated by an 8-week washout. During each treatment, women underwent a 75-gram oral glucose tolerance test (OGTT) and assessments of vascular function and body composition. Overnight GH secretion was assessed via venous sampling every 10 minutes for 12 hours and analyzed using an automated deconvolution algorithm.
Key findings of the study include:

During OGTT, sitagliptin increased glucagon-like peptide-1, early insulin secretion (from mean [± SD] insulinogenic index 1.9 ± 1.2 to 3.2 ± 3.1), and decreased peak glucose.
At 1 month, sitagliptin decreased VAT (from 1141.9 ± 700.7 to 1055.1 ± 710.1 g) but did not affect vascular function.
Sitagliptin increased GH half-life (from 13.9 ± 3.6 to 17.0 ± 6.8 min, N = 16) and interpulse interval (from 53.2 ± 20.0 to 77.3 ± 38.2 min, N = 16) but did not increase mean overnight GH.
For the first time, the researchers demonstrated that sitagliptin enhances GLP-1 levels and early insulin secretion thereby decreasing peak blood glucose following oral glucose ingestion in these women. Secondly, they found that sitagliptin decreases visceral adiposity, through an undefined mechanism.
"This study is the first to suggest an off-target effect of sitagliptin on GH secretion in women with PCOS, potentiating GH half-life and the interpulse interval. This is relevant since endogenous GH secretion is diminished in women with PCOS," wrote the authors.
The study, "Sitagliptin Decreases Visceral Fat and Blood Glucose in Women With Polycystic Ovarian Syndrome," is published in the Journal of Clinical Endocrinology & Metabolism.

Source : Journal of Clinical Endocrinology & Metabolism