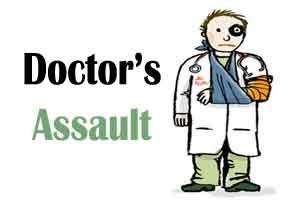 Odisha district hospital reported a case of alleged assault on a doctor by the relatives of a patient who died during treatment. The youth Akshaya Kumar Swain of Baleswarpatana was brought to the Puri Sardar Hospital in a critically ailing condition in the morning at the hospital. Later, during his treatment he passed away. After which, the his relatives got agitated and allegedly thrashed the doctor, accusing him of medical negligence.
As implied by some sources on the matter, the relatives of the patient also claimed that the patient was not given adequate attention, which resulted in his death during the treatment at the hospital.
The doctors at the hospital protested over the incident. They ceased their work to begin their agitation by remaining absent from the duty. The doctors have also warned that if an immediate action is not taken on the matter they will not cooperate during Rath Yatra in the state. They are demanding their own safety now, following such incidents of physical assault.
Puri Chief District Medical Officer (CDMO) has also implied that the safety of the doctors should be given utmost priority. The DDMO emphasized on safety and security of doctors at the hospital.
"I examined the patient on stretcher and administered him medicine. Within 10 minutes of treatment, the patient started gasping and expired. The relatives of the patient started beating me alleging that he wasn't attended properly," the aggrieved doctor said to the media.
The police is now investigation the matter after a complaint was filed by the Health Department at Kumbharpada police station.
Earlier on June 24, Puri Sevayat Premanand Das Mahapatra, the Secretary of Daitapati Nijog and his son- in -law Nabakishore Prusti had been arrested for assaulting a doctor over the treatment of the granddaughter of the former.
0 comment(s) on Odisha: Doctor at Puri district Hospital allegedly assaulted by relatives of a patient