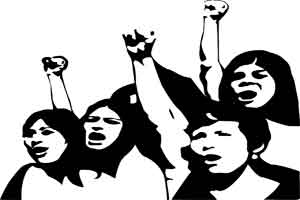 Koraput: The alleged case of the Odisha Rape Victim, took an ugly turn yesterday after the tribal girl took an extreme step by ending her life. The suicide also sparked an outrage in the state particularly against the doctor who had submitted the medical report stating that she was not raped.
A 14-year-old tribal girl, who had alleged that "four men in uniform" had raped her three months ago in Odisha's Koraput district, was found dead in her home on Monday, police told PTI.
The girl took the extreme step after the Odisha Human Right Commission (OHRC) denied her allegations of rape on behalf of the doctor's report against the four Police officials who allegedly raped her in last year October.
In protest of her suicide, the state witnessed a day-long Bandh. The family also denied for the post-mortem of the victim, demanding action against the doctors that filed the said medical report.
SDPO Narahari Nayak said, "We are trying to convince the family members for post-mortem of the girl but so far they have refused. They are demanding immediate action against all accused, including the doctor. They allege that the doctor signed the medical report under pressure. Senior police officers are on the spot and we are trying to bring the situation under control."
The family of the victim came to know about her suicide when her mother a daily wage labourer, returned home from work on Monday afternoon and found her daughter hanging from ceiling. She immediately raised an alarm and drew attention of her neighbours.
 "They informed the local police. We took her to Kunduli Community Health Centre where the doctors declared her brought dead," the SDPO told News18 
It is reported that, in the said case, as per the team of doctors from Koraput and MKCG Medical College and Hospital, Berhampur confirmed that there were no signs of rape.
ADG Mahendra Pratap had submitted the medical reports to the Odisha Human Rights Commission in November 2017 stating medical experts have found no proof of gang rape after examining the girl. "I have discussed with all medical experts treating the girl at Kunduli, Jeypore and MKCG hospital in Berhampur during the course of the investigation. I have submitted the reports attached with doctors' version to the Odisha Human Rights Commission (OHRC) . As per doctors' opinion, there is no such evidence of rape," Pratap had informed OTV at that time
"The minor was under tremendous pressure and was doubtful about getting justice. It is unfortunate that a young girl had to end her life after being denied justice," PTI quoted Congress leader Pradeep Majhi as stating.
Read also: Minor girl rape: OHRC asks for medical report 
1 comment(s) on Odisha Gangrape case : Doctors face Heat for declaring No Rape