Odisha Government Doctor faces probe after her OT SELFIE goes viral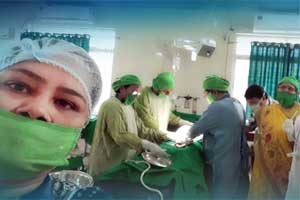 Koraput: A female doctor landed in controversy after the alleged clicking of a selfie in an operation theatre (OT) at a government hospital and circulating it on social media. The district administration has ordered a probe on a doctor and as per the findings of the probe, further action will be taken.
According to the report, a pregnant woman was rushed to the District Headquarters Hospital (DHH) at Jeypore for the delivery. A selfie was clicked inside the OT by a female doctor with a team of doctors conducting an operation in the background. The selfie was later uploaded on DHH WhatsApp group.
As the selfie went viral, the health administration drew flacks from different health quarters.
Lalit Mohan Rath, Chief District Medical Officer (CDMO) of Koraput informed PTI, "It is illegal to carry mobile phone and clicking photos inside an OT. The circumstances in which the photo was taken and how it got circulated in social media are being inquired."
After getting the inquiry report, necessary action will be taken, he further added.
Complaining on the behaviour, activist Ajit Sahu told the Agency that, "OT is not a tourist spot to click photographs. How could the doctors be so negligent? Strict action should be taken against those responsible for clicking and circulating the photo. Also, strict instruction should be issued to prevent recurrence of such incident."
When the doctor Sasmita Das from the doctor's team was contacted, she said that, "it was a collective decision of all the doctors present inside the OT to take the photo and to upload it in the DHH WhatsApp group as operation took place for the first time at the hospital's OT after it was shifted to its new building at Phulobado, situated on the outskirts of Jeypore on October 15."
"We were excited as operation started in the new DHH building and the photo was uploaded in out DHH WhatsApp group. I don't know how it got leaked to other groups and circulated in social media," she further confirmed.