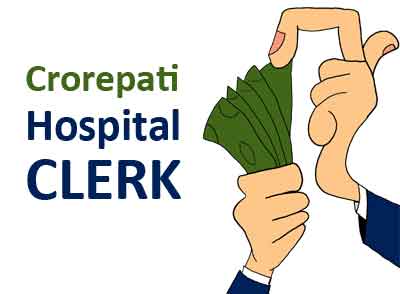 Bhubaneswar: House of a senior clerk in Capital Hospital of the city, Himansu Bhusan Kar, was raided by the Vigilance detectives on allegations of possessing property of crores in the city.   A sum of 1.27 crores was estimated after the raid including the value of movable and immovable assets owned by him and family members. He is now under interrogation for disproportionate assets
Kar is suspected of having alleged links with the suspended assistant director of factories and boilers Motilal Gouda, who was in a recent case arrested by the Crime Branch for forging a gazette notification. The case also involved cheating industries worth several crores.
Read Also : Odisha: Doctors arrested for allegedly duping PSU of Rs 1 Crore
He was interrogated by the Economic Offence Wing of Crime Branch on August 3 in connection with the gazette notification scam, involving Gouda.
The alleged clerk is also under scanner for his proximity of having links with some BJD politicians and bureaucrats.
The man who earns only a subsequent amount of 17000/- per month from the hospital is pegged with assets worth Rs. 1,27,96,737 including him and his family assets.
Work is on to trace more his disproportionate assets, "So far, we found him and his family owning assets worth Rs 1,27,96,737. Since his wife is a civil contractor, we are trying to find out how much property is exactly owned or purchased by Kar," Director (vigilance) R P Sharma told TOI .
A three-storied building at Dumduma and four residential plots in the same area have been revealed to be under his possession. The under-construction building and plots estimate to cost Rs. 71 Lakh and 24 Lakh, respectively. Except of his household articles , he has bank deposits and investment of nearly Rs. 10 Lakh.
However, Kar has pleaded innocence saying "I have not amassed any ill-gotten property. I availed a bank loan of Rs 56 lakh nearly eight months back to construct the building at Dumduma."
0 comment(s) on Odisha: Vigilance finds government hospital clerk to be a millionaire