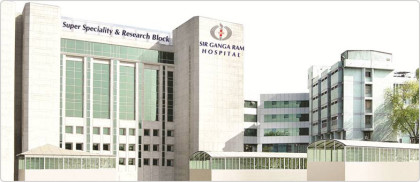 New Delhi: In a bid to provide better medical care to people living in the remote areas of Odisha, the Kalinga Institute of Medical Sciences (KIMS) has signed an agreement with Ganga Ram Institute of Postgraduate Medical Education (GRIPMER) to train medical and paramedical students in the latest medical technologies.
Among the latest technologies are robotic surgery, minimal invasive surgery of the spine, liver, kidney and heart transplant and complicated heart surgeries of newborns. A new telemedicine link will also be inaugurated by D.S. Rana, chairman of the board of management at Sir Ganga Ram Hospital.
According to hospital authorities, this model will help stop the flow to Delhi of patients who can be medically handled at the village and district levels.
"Only those patients who require advanced treatment and high-end surgeries will be brought to Sir Ganga Ram Hospital," a hospital official told IANS.
Doctors from the hospital will start an out-patient department and a medical education programme on December 5-6 under the new model.
0 comment(s) on Odisha's Kalinga, Ganga Ram Hospital ink deal to treat underprivileged