Onus to prove Medical Negligence lies on the Complainant-National commission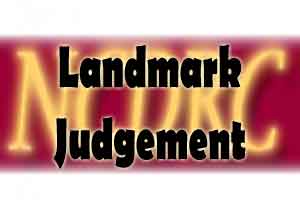 "A medical practitioner faced with an emergency ordinarily tries his best to redeem the patient out of his suffering. He does not gain anything by acting with negligence or by omitting to do an act. Obviously, therefore, it will be for the complainant to clearly make out a case of negligence before a medical practitioner is charged with or proceeded against criminally. A surgeon with shaky hands under fear of legal action cannot perform a successful operation and a quivering physician cannot administer the end-dose of medicine to his patient."
Such were the directions made by the Hon'ble Supreme Court in the case of Jacob Mathew (Dr) vs State of Punjab and Anr . – III (2005) CPJ 9 (SC) and were relied upon in a landmark judgement by Hon'ble Justices Ajit Bharihoke and Rekha Gupta at NCDRC while dismissing the claim of Rs 10 crores made by the petitioner, a noted Cardiac Surgeon at GB Pant Hospital, New Delhi in the recent case of 1. DR. DEEPAK KUMAR SATSANGI & ANR. V/s  SANJEEVAN MEDICAL RESEARCH CENTRE (P) LTD. & ORS.
The facts of the case include:-
Dr D.K Satsangi's son, Late Rahul Satsangi, was a patient suffering from duchenne muscular dystrophy, a congenital  recessive X-linked form of muscular dystrophy, affecting around 1 in 3600 boys which results in muscle degeneration and premature death. It is caused by an absence of dystrophin a protein that helps keep muscle cells intact. Symptoms usually appear in child between 2 to 5 years. Muscle weakness can begin as early as age 3, first affecting the muscles of the hips, pelvic area, thighs and shoulders and later the skeletal muscles in the arms, legs and trunk. By the early teens, the heart and respiratory muscles are affected. Until relatively recently boys with DMD did not survive much beyond their teen years. Thanks to advances in cardiac and respiratory care, life expectancy is increasing and survival into the early 30s is becoming more common. There is no known cure for DMD. Treatment aims to control symptoms to improve quality of life.
In 2009, The patient was suffering from Cough & Expectoration since 10-15 days, Fever 2-3 days, and was taken to Sanjeevan Hospital for treatment, where Dr Anupam Jena (MD) assessed him to be a case of pneumonia and admitted him after informing the father. The patient's father was consulted telephonically, who informed Dr Jena that the patient was allergic to Penicillin and based on discussion, Dr Jena adviced Injection Azithromycin and Inj Levofloxocin intraveneously after test dose. After the test dose of Levoflox intravenously (0.01 ml), patient developed chills and rigor and cardiovascular collapse, post which was shifted to the ICU. Unfortunately, despite of maximum resuscitative efforts lasting two hours, including temporary pacing done by Dr M. Khalliluah, patient could not be salvaged.
Dr Satsangi levelled following allegations of Medical Negligence against the hospital and demanded Rs 10 crores as compensation for the death of his son:-
(a)The diagnosis of Pneumonia and the reason for admission was wrong and done out of greed.
(b) The choice of medicines as "Azithromycin" and "Levofloxacin" was a negligent act since Rahul was allergic to Cephalexin.
(c) The route of administration of Azithromycin was bolus while it should have been given as infusion.
(d) The methodology of testing of Levofloxacin as intravenous was a negligent act.
(e) The necessary care was not done after the reaction had taken place.
The court examined each of the points in the light of 4 enquiry committes that were constituted including, Directorate of Health Services, Delhi Medical Council, AIIMS, and Medical Council of India.
The hon'ble made the following observations:-
"
To sum up, we are of the opinion that the complainants and more particularly complainant no.1 Dr. Satsangi has failed to prove his allegations of medical negligence against the OPs. This opinion is supported by two expert bodies, i.e., Directorate of Health Services and the Medical Board of AIIMS as also to some extent by DMC. This is a case where the complainants, parents of Rahul Satsangi who was suffering from DMD with all its attendant complications and was at the terminal stage as far back as in 2004, chose to take their son for tests, investigations, diagnosis and treatment to OP -1 where, as per available record Rahul Satsangi had never been treated either in the hospital or by OP-3 – Dr Anupam Jena. Admittedly, as on 24.10.2009 Rahul Satsangi had been ill for the last 10 to 15 days with cold and cough and intermittent fever and yet complainant no.1 while proceeding to Chandigarh to attend a medical conference instructed his wife, who suspected that their son Rahul was suffering from Pneumonia, to take him for the necessary tests and diagnosis to an unknown hospital and unknown doctors. This exhibits a lack of prudence and care which was compounded by the fact that as from the record available complainant no. 2 did not take with her any previous medical or treatment record. The mother, who was present, was not able to take decisions on her own and for all matters referred Dr. Jena to complainant no.1 who was attending a conference in Chandigarh. Even the consent form was signed by a family friend. Dr. Satsangi from the record available was supervising, directing and guiding the treatment to be given, from Chandigarh on telephone. Dr.Satsangi would have us take his words against that of Dr. Anupam Jena with regard to the advice, guidance, instructions given by him on telephone as against what is recorded in the treatment record. From the record it is not established that he had warned Dr. Jena against prescribing Ciprobid. From the record, it is also not established that he warned against prescribing IV Azithromycin and IV Levefloxacin."
While dismissing this complaint of Dr Deepak Satsangi demanding Rs 10 crores for medical negligence,the court relied on many observations relating to previous Supreme Court cases of medical negligence some of which are as follows:
A private complaint should not be entertained unless the complainant has produced prima facie evidence before the court in the form of a credible opinion given by another competent doctor in government service, qualified in that branch of medical practice who can normally be expected to give an impartial opinion applying the Bolam test (
Jacob Mathew (Dr) vs State of Punjab and Anr . – III (2005) CPJ 9 (SC))
The medical practitioners at times also have to be saved from such a class of complainants who use criminal process as a tool for pressurizing the medical professionals/hospitals particularly private hospitals or clinics for extracting uncalled for compensation. Such malicious proceedings deserve to be discarded against the medical practitioners. ( 
Kusum Sharma & Ors vs Batra Hospital and Medical Research Centre and – 2012 (2) R C R (Civil) 161)
"While this Court has no sympathy for doctors who are negligent, it must also be said that frivolous complaints against doctors have increased by leaps and bounds in our country particularly after the medical profession was placed within the purview of the Consumer Protection Act."(Jacob Mathew (Dr) vs State of Punjab and Anr . – III (2005) CPJ 9 (SC))"We, therefore, direct that whenever a complaint is received against a doctor or hospital by the Consumer Fora (whether District, State or National) or by the Criminal Court then before issuing notice to the doctor or hospital against whom the complaint was made the Consumer Forum or Criminal Court should first refer the matter to a competent doctor or committee of doctors, specialized in the field relating to which the medical negligence is attributed, and only after that doctor or committee reports that there is a prima facie case of medical negligence should notice be then issued to the concerned doctor/hospital. This is necessary to avoid harassment to doctors who may not be ultimately found to be negligent. We further warn the police officials not to arrest or harass doctors unless the facts clearly come within the parameters laid down in Jacob Mathew's case otherwise the policemen will themselves have to face legal action."(Jacob Mathew (Dr) vs State of Punjab and Anr . – III (2005) CPJ 9 (SC))
The court finally concluded:-
In view of the above, we are of the opinion that the complainants
have failed to prove their allegations of medical negligence against the opposite parties
. Two expert medical Boards have also found no evidence of medical negligence........The complaint is hence dismissed as the complainants have failed to establish that the OPs were guilty of medical negligence.
You can get a copy of the judgement by clicking on the link below:-
judgement2016-04-01