OPD to run in 2 shifts at UP government hospitals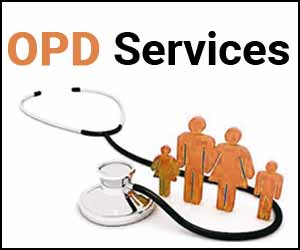 Uttar Pradesh government is contemplating to start OPD services in two shifts--from 8 am to 2 pm and 2 pm to 8 pm. --- Health Minister Sidharth Nath Singh
Lucknow: In order to handle the patient rush at government hospitals, the Uttar Pradesh government has decided to run the Out- Patient Department (OPD) in two shifts.
The information to this effect was made by state Health Minister Sidharth Nath Singh during a recent session at the UP assembly while replying to a question raised by Congress MLA Aditi Singh and BSP member Uma Shankar Singh.
He informed the assembly members that the Uttar Pradesh government is contemplating to start OPD services in two shifts--from 8 am to 2 pm and 2 pm to 8 pm.
"A pilot project is running in Kanpur. We will send a proposal in this regard to the state Cabinet," he added.
In reply to another question raised by SP member Manoj Kumar Pandey, the minister said there were 10 primary and 18 community health centres which were ready but non-functional due to non-appointment of the staff.
"These will be made operational depending upon the availability of human and financial resources," the minister said. He said in 2017, when the BJP came to power, 7,376 posts of the doctor were vacant in the state, which had come down to 2,230. "Doctors are being recruited through the provincial medical services besides making appointments on ad hoc basis and open bidding," the minister said.
Uttar Pradesh Chief Minister Yogi Adityanath had earlier batted for a dialogue between the doctors and the patients, saying it will help them to improve their relationship.
"There should be an emotional dialogue between the patients and the doctors. We have lost it in this commercial age. The respect for the doctors has diminished due to priority being given to commercial interests," he said.
Read Also: Emotional Dialogue between Doctors, Patients Lost in Commercial Era; says UP CM