Open freebies being offered to Doctors at PEDICON 2017: Report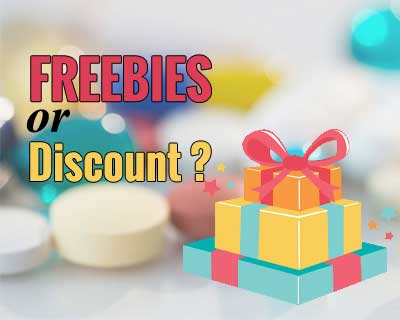 Freebies or Bulk Discount?
Bengaluru: PEDICON 2017, the 54th Annual conference of the Indian Academy of Pediatrics seems to have made headlines in the city, but for all the different reasons. The conference which is being currently held from the 18th January 10 to 22nd January, 2017, has suddenly become notorious for flyers which had been allegedly distributed by one pharma company to incentivize doctors to prescribe its vaccines.
`Get a digital weighing machine free for an order of 100' or ' five-gram gold coin for orders of 150'
TOI notes the flyer has stating. The leading daily which procured the digital copy of the flyer,  reported that despite the MCI prohibiting pharma companies from offering incentives and freebies to doctors, the said flyer was openly offering  a "Sankranti bonanza" to the pediatricians who were attending the conference.
A pediatrician present at the conference explained the flyer,  "It mentions that doctors ordering 100 TCV (vaccine against typhoid) plus 100 ROTA (vaccine against rota virus) can choose between a `digital baby weighing machine' or `Littmann stethoscope Class III' as free gifts." Doctors ordering 150 vials of each vaccine would win a gold coin. The flyer did-not mention the name of the pharmaceutical company, but it was easily identifiable as the said flyers were present at only one pharma co's booth.
This is not the first time a flyer from PEDICON has made it to the media. The newspaper goes on to add that last year, in PEDICON 2016, flyer  of Bharat Biotech was highlighted which allegedly offered pearl set for orders of 50 typhoid and rota vaccines,  with iphone 5s for orders of 200 each.
Denying all allegations the national marketing head of the company, Raghu Reddy said that the flyers were an act of "pure mischief"."We fear the flyers were made and distributed by multinationals who are worried about a company's growth. We have tried for a year to locate the culprits, but failed," he said. The company sells typhoid vaccine at Rs 70 and the rota vaccine at Rs 700. "We have driven out multinational players and they are clearly retaliating. Our company doesn't need to pursue such unethical practices," he said.
Freebies or Bulk Discount?
While the issue has been highlighted in the media, it remains unclear whether the above offer would be considered as a freebie or a Bulk Discount. While freebies are against the MCI code of ethics, there seems no such limitation for doctors on getting a discount when purchasing an item. PEDICON's chief organizer, Dr B P Karunakara, from the paediatrics department of M S Ramaiah Hospital, Bengaluru, speaking to TOI denied that doctors were offered any incentives."There are never any incentives for vaccines. If someone buys vaccines in bulk, they may get a reduction in the overall price," he said. "I have been a paediatrician for 18 years and, believe me, there is no such thing as an incentive offered to doctors."
What the code of Ethics say
Section 6.8 of the MCI of Indian Medical Council (Professional Conduct, Etiquette and Ethics) Regulations, 2002 deals with  Code of conduct for doctors and professional association of doctors in their relationship with pharmaceutical and allied health sector industry. and states
6.8.1 In dealing with Pharmaceutical and allied health sector industry, a medical practitioner shall follow and adhere to the stipulations given below:-
a) Gifts: A medical practitioner shall not receive any gift from any pharmaceutical or allied health care industry and their sales people or representatives.
b) Travel facilities: A medical practitioner shall not accept any travel facility inside the country or outside, including rail, air, ship , cruise tickets, paid vacations etc. from any pharmaceutical or allied healthcare industry or their representatives for self and family members for vacation or for attending conferences, seminars, workshops, CME programme etc as a delegate.
c) Hospitality: A medical practitioner shall not accept individually any hospitality like hotel accommodation for self and family members under any pretext.
d) Cash or monetary grants: A medical practitioner shall not receive any cash or monetary grants from any pharmaceutical and allied healthcare industry for individual purpose in individual capacity under any pretext. Funding for medical research, study etc. can only be received through approved institutions by modalities laid down by law / rules / guidelines adopted by such approved institutions, in a transparent manner. It shall always be fully disclosed.
e) Medical Research: A medical practitioner may carry out, participate in, work in research projects funded by pharmaceutical and allied healthcare industries. A medical practitioner is obliged to know that the fulfillment of the following items (i) to (vii) will be an imperative for undertaking any research assignment / project funded by industry – for being proper and ethical. Thus, in accepting such a position a medical practitioner shall:- (i) Ensure that the particular research proposal(s) has the due permission from the competent concerned authorities. (ii) Ensure that such a research project(s) has the clearance of national/ state / institutional ethics committees / bodies. (iii) Ensure that it fulfills all the legal requirements prescribed for medical research. (iv) Ensure that the source and amount of funding is publicly disclosed at the beginning itself. (v) Ensure that proper care and facilities are provided to human volunteers, if they are necessary for the research project(s). (vi) Ensure that undue animal experimentation are not done and when these are necessary they are done in a scientific and a humane way. (vii) Ensure that while accepting such an assignment a medical practitioner shall have the freedom to publish the results of the research in the greater interest of the society by inserting such a clause in the MoU or any other document / agreement for any such assignment.
f) Maintaining Professional Autonomy: In dealing with pharmaceutical and allied healthcare industry a medical practitioner shall always ensure that there shall never be any compromise either with his / her own professional autonomy and / or with the autonomy and freedom of the medical institution.
g) Affiliation: A medical practitioner may work for pharmaceutical and allied healthcare industries in advisory capacities, as consultants, as researchers, as treating doctors or in any other professional capacity. In doing so, a medical practitioner shall always: (i) Ensure that his professional integrity and freedom are maintained. (ii) Ensure that patients interest are not compromised in any way. (iii) Ensure that such affiliations are within the law. (iv) Ensure that such affiliations / employments are fully transparent and disclosed.
h) Endorsement: A medical practitioner shall not endorse any drug or product of the industry publicly. Any study conducted on the efficacy or otherwise of such products shall be presented to and / or through appropriate scientific bodies or published in appropriate scientific journals in a proper way".
Failure to abide by above rules can bring strong disciplinary action including cancellation of the name from the Indian Medical Register.