Neurotrophic Keratopathy Mimicking Acanthamoeba Keratitis: AJO Case Report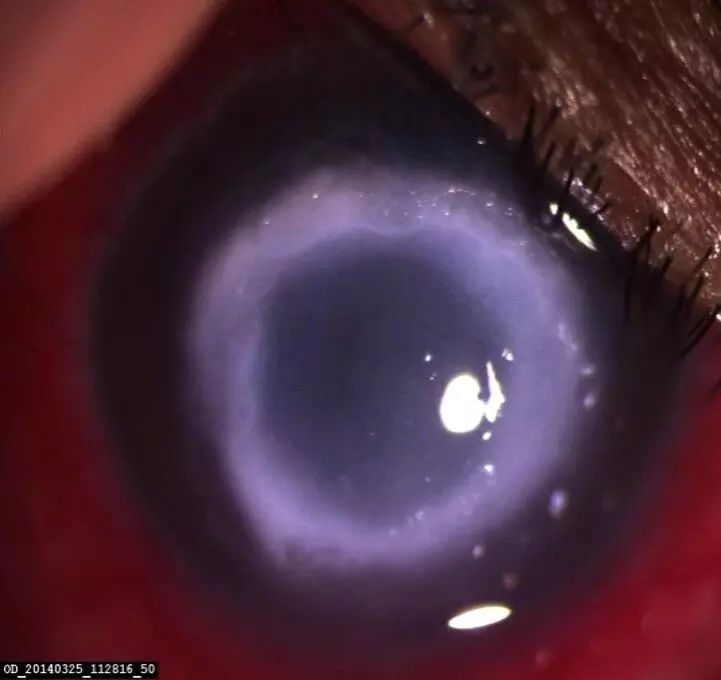 Neurotrophic Keratopathy should be considered in indolent ulcers where infectious etiology cannot be confirmed and if other risk factors are present.
Khaled Alhajraf from Massachusetts Eye and Ear, Harvard Medical School, Boston, MA, USA and colleagues have reported a case of neurotrophic keratopathy presenting as a corneal ring ulcer mimicking Acanthamoeba Keratitis and resulting in a diagnostic and therapeutic challenge.

The case report has been published in the American Journal of Ophthalmology Case Reports.
A 52-year-old patient who had received intravitreal injection of Ranibizumab for Diabetic Macular Oedema presented 8 days later with pain and redness in the left eye. She was treated with erythromycin ointment, topical moxifloxacin, and therapeutic soft contact lens, which she tolerated for less than 24 hours. She was then referred to a Cornea Specialist for management.
On presentation at the Cornea Clinic, the visual acuity in the left eye was counting fingers. Slit lamp examination revealed a corneal ring ulcer of 5mmX 5mm with central epithelial defect, surrounding corneal oedema and chemosis. Corneal smears and cultures, including those to identify atypical pathogens, were obtained. All cultures were, however, negative. Confocal microscopy showed possible double-walled cysts in two images from one sequence.
A presumptive diagnosis of Acanthamoeba Keratitis was made based on the presentation of a ring ulcer, use of therapeutic contact lens, negative culture and suspicious confocal microscopy. Topical Chlorhexidine under cover of antibiotics was prescribed.
After 6 weeks, the ring ulcer showed no improvement. Repeat cultures were negative. Even confocal microscopy was negative. Anti-amoebic therapy was stopped considering the lack of response to treatment and subsequent smear, culture and confocal microscopy being negative.
Considering the history of diabetes, a history of PRP and a history of anti-VEGF injections, shown recently to reduce corneal nerve parameters, a presumptive diagnosis of Neurotrophic Keratopathy was made. Antibiotics and lid taping were continued and a mild steroid in the form of topical Loteprednol 0.5% twice daily was added. The patient, however failed to tolerate a trial of therapeutic contact lens. After 10 days, the epithelial defect healed but only to recur few days later.
The patient was started on Topical Cenegermin, 6 times a day. Cenegermin is a recombinant human Nerve Growth Factor approved for the treatment of neurotrophic keratitis. When used topically 6 times daily for 8 weeks duration, Cenegermin has been shown to promote complete corneal epithelial healing in up to 74% of neurotrophic keratitis ulcers. The other treatment options available were sutureless amniotic membrane grafting and tarsorrhaphy to which the patient did not consent. Autologous serum which is an accepted therapeutic modality for neurotrophic keratopathy was not considered for this patient due to high risk of superinfection.
The patient responded to Cenegermin therapy with healing of the epithelial defect and reduction of the ring infiltrates.
According to the authors, the pain experienced by the patient was paradoxical but history of peripheral neuropathy in the lower extremities related to diabetes suggested the possibility of neurotrophic corneal ulcer. Therefore, the take home message from this case according to the authors is "Neurotrophic disease should be considered high in the differential diagnosis in ulcer patients with underlying risk factors in whom infectious etiology cannot be confirmed and/or who don't respond to anti-microbial therapy, and in any patient with longstanding diabetes with corneal surface issues."
For full article please click the link
https://www.sciencedirect.com/science/article/pii/S2451993620301717
Article Source :
American Journal of Ophthalmology Case Reports