Rare case of Bilateral Retinal Detachment in Goldenhar Syndrome reported in IJO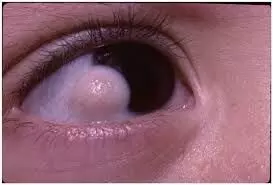 Rhegmatogenous Retinal Detachment may be a posterior segment association of Goldenhar Syndrome
Dr Phuntsho Dorji and colleagues from L.V Prasad Eye Institute, Hyderabad, India have reported a unique case of bilateral rhegmatogenous retinal detachment associated with Goldenhar Syndrome.
The case report has been published in the Indian Journal of Ophthalmology.
A 25-year-old male patient presented with history of decreased vision in the right eye for the past 3 months and left eye for the past 2 years. There was no family history of any ocular disease.
External examination revealed that the patient had gross malar and mandibular hypoplasia with multiple preauricular skin tags on the left face. The right external ear was dysmorphic. Systemic evaluation revealed kyphoscoliosis.
Ocular examination demonstrated that visual acuity in both eyes was limited to perception of light. Projection of rays was inaccurate in the left eye. Both eyes had infero-temporal limbal dermoid. There was complicated cataract involving the visual axis in both eyes.
Ultrasound B-Scan revealed bilateral retinal detachment with funnel configuration in the left eye. There was no evidence of posterior staphyloma or associated choroidal coloboma. Axial length was measured as 19.13 mm and 17.47 mm in the right eye and left eye respectively.
On the basis of these features, a diagnosis of Goldenhar Syndrome with bilateral retinal detachment was made.
The right eye was taken up for surgery. Excision of limbal dermoid was done with pars plana lensectomy, pars plana vitrectomy and silicon oil injection. An old rhegmatogenous retinal detachment with lattice degeneration and retinal hole was identified during the surgery. After three months of surgery, the retina remained attached with the patient having ambulatory vision of 20/400.
Goldenhar syndrome is an uncommon syndrome consisting of malformations of the first and second branchial arches. Documented in 1952 by the Belgian-American Ophthalmologist Maurice Goldenhar it is also referred to as Oculo-Auriculo-Vertebral Dysplasia.
Unilateral facial asymmetry with mandibular deformities is generally seen. Microtia, partial to complete atresia of external acoustic meatus, preauricular skin tags and deafness are commonly reported auricular features. Macrosomia, scoliosis, cardiac and renal abnormalities are also seen.
Ocular features involving the external eye may be seen in around 60% cases of Goldenhar Syndrome. Epibulbar dermoid, epicanthal folds, strabismus and rarely anophthalmia have been reported. Coloboma involving the lids, iris and choroid may also be seen.
Retinal involvement in Goldenhar Syndrome is rare probably because the branchial arches which are involved in the pathogenesis of this syndrome do not contribute to the development of the retina.
According to the authors, Vitelliform Maculopathy and Familial Exudative Vitreo-retinopathy have been described in this syndrome before, but Rhegmatogenous Retinal Detachment is known to occur only in simultaneous presence of choroidal coloboma.
"To the best of our knowledge, this association of Goldenhar Syndrome with Rhegmatogenous Retinal Detachment in the absence of associated coloboma is novel and has not been reported earlier in ophthalmic and systemic literature. Further research is however required for establishing a true association." conclude the authors.
For further reading and clinical photographs, click on the link
https://www.ijo.in/article.asp?issn=0301-4738;year=2020;volume=68;issue=11;spage=2585;epage=2586;aulast=Dorji
Article Source :
Indian Journal of Ophthalmology