Rare case of X-Linked Retinoschisis presents as retinal detachment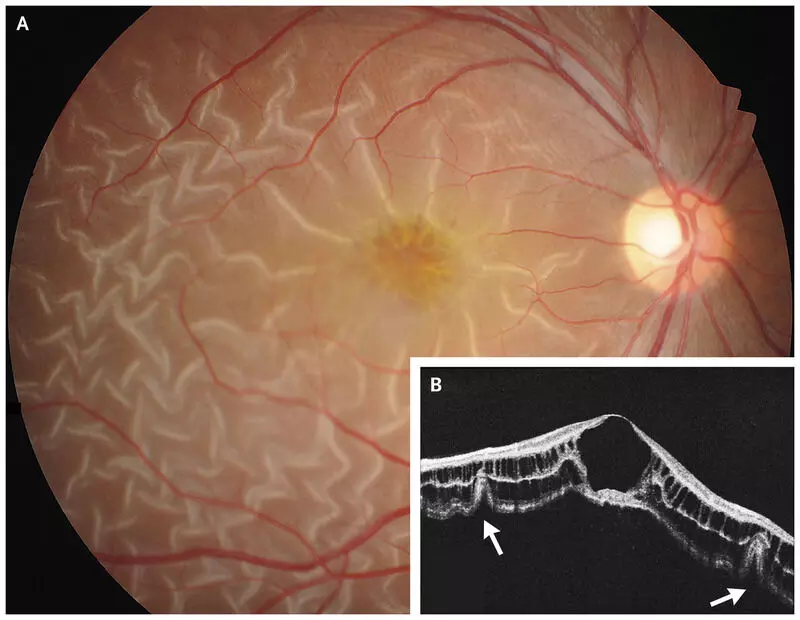 Dr Yunjeong Lee and Dr Baek-Lok Oh at Seoul National University Hospital, Seoul, South Korea have reported a rare case of X-Linked Retinoschisis presents as retinal detachment. The case has appeared in the New England Journal of Medicine.
X-linked Retinoschisis or X-Linked Juvenile Retinoschisis is a rare congenital malformation of the retina caused by mutations in the RS1 gene with a prevalence of about 1 in 15,000 to 30,000, is the main cause of juvenile macular degeneration. It is characterized by symmetric bilateral macular involvement beginning in the first decade of life.
Patients typically present at school age complaining of poor vision, although they may present in infancy with nystagmus, strabismus, hyperopia, foveal ectopia, haemorrhage, or retinal detachment. However, there is wide variability in disease severity, ranging from normal vision to legal blindness, even among patients carrying the same mutation. X-linked retinoschisis may also present as spontaneous vitreous haemorrhage or retinal detachment. These complications occur commonly and are the main causes of complete vision loss.
In the present case a 19-year-old man with X-linked retinoschisis presented with a 3-day history of worsening vision in his right eye. He had received a diagnosis of X-linked retinoschisis at 5 years of age when reduced visual acuity and macular cystic degeneration were noted in both eyes. At the current visit, the visual acuity was 20/70 in the right eye and 20/40 in the left eye. Examination of the right fundus showed prominent retinal corrugations radiating from the fovea and normal vasculature .
Optical coherence tomography revealed a full-thickness retinal detachment and corrugation of deep layers of the retina (Panel B, arrows), as well as diffuse retinoschisis. X-linked retinoschisis is an inherited retinal disease that occurs primarily in males. Because no retinal tears were observed, the patient was treated nonsurgically. After a 2-week course of daily oral acetazolamide, the retinal detachment resolved. The patient's visual acuity at follow-up had returned to a baseline of 20/40 in both eyes.

For further reference log on to:

Source : New England Journal of Medicine