Binocular treatment in children with Amblyopia shows little promise; finds study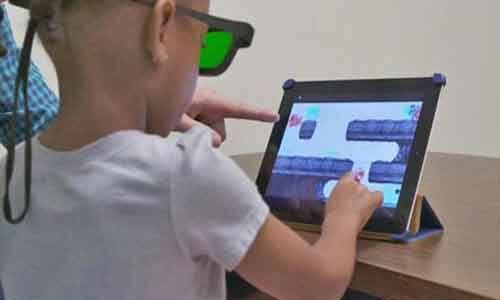 Amblyopia represents diminished vision occurring during the years of visual development secondary to abnormal visual stimulation. It represents an insult to the visual system during the critical period of development whereby an ocular pathology (ex. strabismus, anisometropia, high refractive error, or deprivation) interferes with normal cortical visual development. Approximately 3-5% of children are affected by amblyopia.

According to the findings of a recent study,compared with glasses alone, binocular Tx improved amblyopic eye visual aquity (VA) at 4 weeks. The effect was not significant at 8 weeks, possibly from continuing VA improvement with glasses, VA ceiling effect and reduced binocular effect from game design. The results have been put forth in conference coverage from the American Academy of Ophthalmology 2020, being held virtually from November 13 to 15, 2020.
Over the last decade, there has been an explosion of amblyopia research. The need for prospective randomized trials in the treatment of amblyopia was very much felt. Current approaches emphasize the importance of binocular function of unilateral amblyopes and point to binocular treatment as a potentially valuable way to achieve therapeutic results. Perceptual learning with both eyes open and dichoptic training, where a different image is presented to each eye, have demonstrated significant results, aiming to address interocular suppression as the primary cause of strabismic and refractive amblyopia. Advancements in digital technology have allowed the application of a number of devices (laptop, iPod, iPad, Oculus Rift), with appropriate software, to the binocular dichoptic treatment of amblyopia.
With this in view, Researchers undertook a study to determine if binocular treatment (Tx) can improve amblyopia in 4-6 Year-Olds.
The study was designed in such a manner that after glasses wear for ≥16 weeks or 8 weeks with no improvement in visual acuity (VA), 182 children 4 to 6 years old with anisometropic, strabismic or combined amblyopia (<5δ near tropia) were randomly assigned to 1 hour/day, 5 days/week binocular Tx on a tablet (Dig Rush dichoptic game, with initially reduced fellow eye contrast) versus continued glasses. Masked assessment occurred at 4 and 8 weeks.
On data analysis , the following facts emerged.
For 169 completing the 4-week primary outcome, mean VA improvement was greater with binocular Tx than continued glasses (1.1 versus 0.6 logMAR lines, diff 0.5 lines; 95.1% CI, 0.1-0.9).
For 164 completing 8-week exams, difference was not significant (1.3 versus 1.0 lines, diff 0.3 lines; 98.4% CI, −0.3 to 0.8)
For full article follow the link: RCT of Binocular Treatment for Amblyopia in 4-6 Year-Olds.
Primary source: American Academy of Ophthalmology 2020
Source : American Academy of Ophthalmology 2020