Brolucizumab efficacious and safe in Neovascular Age-Related Macular Degeneration: BRAILLE Study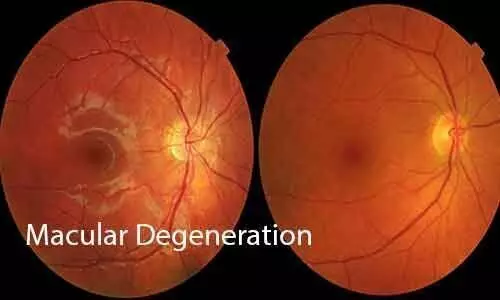 Age-related macular degeneration (AMD) is a chronic, progressive disease of the central retina and a major cause of irreversible vision loss worldwide. Biologics that inhibit the angiogenic action of vascular endothelial growth factor (anti-VEGF) has revolutionized the treatment of the neovascular form of AMD (nAMD).
These anti-VEGF agents need to be administered frequently for optimal outcomes in the management of nAMD. The economics and logistics of repeated injections, on the other hand, remain a challenge. As a result, many patients in real-world settings do not receive treatment as frequently as they do in standardized clinical trials, resulting in poor visual outcomes.

The real-world clinical data of intravitreal injection (IVI) of brolucizumab in the management of nAMD in Indian eyes has not been reported. To address this gap in the literature, Chakraborty et al described the early visual acuity and tomographic outcomes of IVI brolucizumab in treatment naïve and previously treated eyes with nAMD. Additionally, they evaluated the safety profile of IVI brolucizumab in Indian eyes.
This was a multicenter, retrospective chart review of 94 eyes of 94 patients with nAMD (treatment-naïve and switch-therapy) undergoing brolucizumab therapy. The main outcome measures were changes in the best-corrected visual acuity (BCVA), intraretinal fluid (IRF), subretinal fluid (SRF), central subfield thickness (CST), and pigment epithelial detachment (PED) along with safety analysis.
Of the 94 eyes, 20 eyes (21.3%) were treatment-naïve, whereas the rest 74 eyes (78.7%) underwent switch therapy.
One hundred and twenty-six injections were given over a mean followup of 7.3 ± 2.2 weeks. The BCVA improved significantly from 0.82 ± 0.5 LogMAR at baseline to 0.66 ± 0.5 LogMAR at the final visit (p < 0.0001).
Significant reduction in CST was simultaneously noted (Baseline: 408.45 ± 65.63 µm; Final: 281.14 ± 37.74 µm; p < 0.0001).
On qualitative analysis, resolution of subretinal fluid (SRF), intraretinal fluid (IRF), and pigment epithelial detachment (PED) was observed in 15.5%, 39.29%, and 23.81% of the eyes, respectively.
The mean interval of repeat injection was 10.2 ± 2.1 weeks.
Three episodes of ocular adverse drug reaction were reported, including two patients developing subretinal hemorrhage while one having a retinal pigment epithelial (RPE) tear.
Notably, no intraocular inflammation (IOI) was seen in any of the eyes, and no systemic side effects were identified
In this study on IVI brolucizumab therapy in nAMD, a significant improvement in visual acuity along with a notable reduction in the CST was observed. A detailed tomographic evaluation demonstrated a reduction in the amount of fluid, both intra- and subretinally, and PED dimensions. Adverse events were noted in 24.6% of injections, but most (90.32%) were nonserious. Interestingly, no cases of IOI were seen after 126 IVI brolucizumab.
Anti-VEGF therapy has become the standard of care for the management of macular neovascularization (MNV).2 Each anti-VEGF agent which is currently in use offers certain unique advantages. Brolucizumab is a very durable agent primarily due to its low molecular weight allowing for higher molar dosing and offers the advantage of ≥12 weekly dosage in nAMD.
The authors concluded, "In conclusion, the early real-world evidence suggests that IVI brolucizumab is safe and efficacious in the treatment of nAMD. Long-term prospective studies with a larger sample size and comparative arms are needed to validate our short-term results. Furthermore, including patients from various ethnic backgrounds with a diverse genetic pool is critical in determining their putative role in mediating brolucizumab-induced IOI."
Source: Chakraborty et al; Clinical Ophthalmology 2021:15 3787–3795
Source : Clinical Ophthalmology