Sutured scleral-fixated foldable IOL shows satisfactory outcomes with fewer complications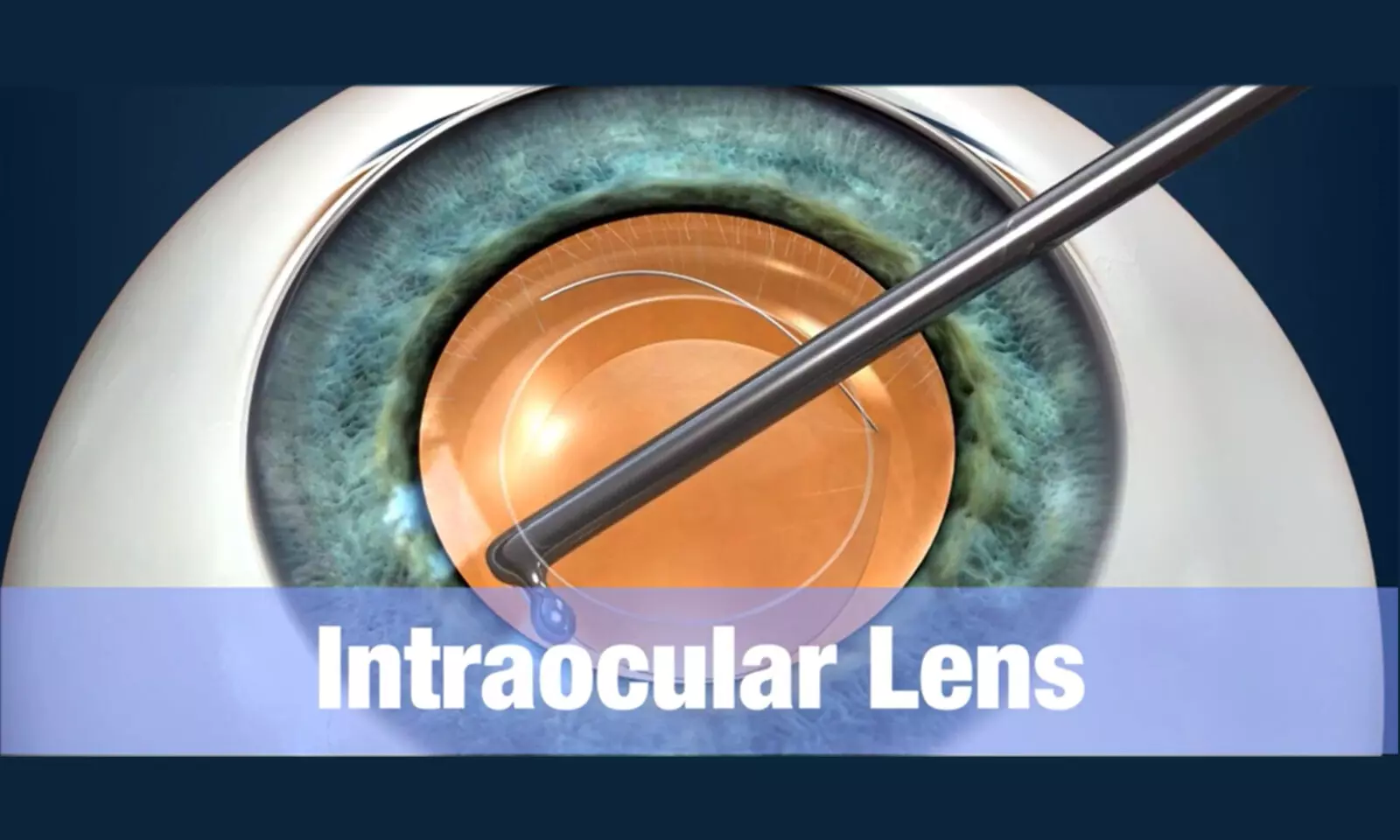 There are several mainstream surgical approaches to correct aphakia without adequate capsular support. Current choices include implantation of an iris-fixated intraocular lens (IOL) (pre- or retropupillary), sutureless intrascleral posterior chamber IOL fixation, and scleral-fixated IOL. Scleral-fixated IOL (SF-IOL), including sutureless and sutured fixated IOL (SSF-IOL), continues to gain acceptance among surgeons.

SSF-IOL implantation remains an effective procedure. Its long-term outcomes and safety profile have been widely reported. The most concerning late complication was IOL dislocation due to suture breakage, occurring on average at approximately 50 months postsurgery, with differences between studies and ethnic groups.
Ting Yu et al carried out a study to evaluate the long-term safety, efficacy, and clinical outcomes of SSF-IOL implantation over a 5-year period in China. Special emphasis was placed on AEs including suture-related complications, IOL dislocation, hypotony, elevated intraocular pressure (IOP), and RD.
SSF-IOL implantation was performed by the same surgeon at three sites: Fujian Provincial Hospital (tertiary referral site) and Guangze County Hospital and Xiapu County Hospital (primary hospital sites). It was a Retrospective study. Patients who underwent sutured scleral-fixated foldable IOL implantation using 10-0 polypropylene suture were followed up for at least 5 years.
RESULTS:
52 eyes among 48 patients (35 male and 13 female) were evaluated. The mean age (years) was 50.27 ± 20.08. The mean postoperative follow-up time (months) was 79.70 ± 18.84.
The mean best-corrected visual acuity (BCVA) improved from 0.83 ± 0.69 logarithm of the minimum angle of resolution (logMAR) at baseline to 0.50 ± 0.45 logMAR at the last follow-up visit.
There was improved or unchanged BCVA in 44 eyes (84.62%) and reduced BCVA in 8 eyes (15.38%).
Mild intraoperative intravitreal hemorrhage was observed in 3 eyes (5.77%). Early postoperative complications included transient elevated intraocular pressure (IOP) in 5 eyes (9.62%) and hypotony in 1 eye (1.92%).
Secondary epimacular membrane occurred in 5 eyes (9.62%) and retinal detachment (RD; 3 years postsurgery), subconjunctival suture knot exposure (5 years postsurgery), and persistent elevated IOP (in a GRAVES patient) occurred in 1 eye (1.92%) each.
No suture erosion or breakage nor IOL dislocation was observed.
No visually threatening IOL tilt or decentration was reported in any patient.
Compared to iris-fixed IOL and AC-IOL, SF-IOL is superior in protecting the integrity of the anterior chamber, minimizing uveal contact, and independence of the presence of iris tissue. However, due to the need for vitrectomy equipment and specialized surgical skill, sutureless SF-IOL is not likely to be widely used in primary hospitals and eye centers, especially in undeveloped/developing countries.
Authors reported the long-term outcomes of SSF-IOL implantation via a small (≤3 mm) corneal incision using 10-0 polypropylene suture. Included are cases performed at the beginning of the learning phase and those performed in two primary hospitals. Short- and long-term complications were infrequent and clinical outcomes were favorable. The SSF foldable IOL technique is less traumatic as fewer manipulations inside the eyeball are needed: suture presetting, suture out-pulling, and IOL inserting, with puncture performed when the eyeball was intact and the other procedures were finished under a small (≤3 mm) incision. For eyes having secondary lens implantation without coexistent vitreoretinal disorders, 38 eyes (73.08%) at the tertiary hospital and 5 eyes (9.62%) at the primary county hospitals did not require vitrectomy.
When there was minor vitreous incarceration in the pupil area/corneal incision, the vitreous could be excised using scissors and then using a miotic agent. The use of a thinner 10-0 polypropylene suture preset through the ciliary sulcus with ab externo technique and smaller suture puncture were associated with minimal vitreous fluid outflow and only minor change in IOP. Little disturbance of the intraocular environment helps maintained the integrity and stability of the eyeball, such that infusion or AC maintainer was not needed.
IOL dislocation due to suture breakage was a late complication and is considered by surgeons to be the greatest challenge of this technique. In this study, there was no suture breakage with a mean follow-up of 79.7 months. The role of pigment is unclear and requires further randomized, multicenter prospective study. Furthermore, according to some reports, the risk of postoperative suture breakage was greater in younger patients; however, in this study, there was no breakage in 13 patients who are <40 years old.
Authors considered 10-0 polypropylene suture to have some advantages. First, a 10-0 polypropylene suture knot is smaller than a 9-0 knot and may produce fewer complications such as scleral atrophy above the knot and erosion of the stiff cutting ends. In most patients in this study, suture knots were seen in the subconjunctiva, but bulbar conjunctival fluorescein staining was negative. Among 100 suture knots in 52 eyes, only 1 exposure was observed 5 years postsurgery with positive staining, which was rescued by conjunctival separation and coverage. Smaller knots and softer thread arms of the 10-0 suture might produce less suture exposure and erosion. Second, when presetting sutures, the thicker and stiffer texture of a 9-0 or 8-0 suture may result in larger puncture allowing more intravitreous fluid leakage. There are several reports of a 10-0 polypropylene suture knotless Z-suture technique that demonstrate promising clinical results with follow-up from 6 to 135 months and that might further enhance SSF-IOL implantation.
Other long-term AEs, including RD and significant lens tilt or decentration, were also infrequent in this study. RD was seen in 1 eye (1.92%) 3 years postsurgery with the retinal hole located away from the suture-fixation position (11 o'clock). Authors identified no significant IOL decentration or tilt in study at a mean follow-up of 79.7 months.
After IOL implantation, all patients had improved vision. Visual outcomes in this study were impressive with a high rate of BCVA improvement, demonstrating long-term stability of SSF foldable IOL.
The authors concluded, "This study validated the beneficial long-term outcomes of SSF foldable IOL implantation in China via a small (≤3 mm) corneal incision using 10-0 polypropylene suture. This technology was safe, easy to master, and easily replicated. Both short- and long-term AEs (particularly suture-related complications) were rare and long-term visual outcomes were stable. Free from relying on complicated resources, such as expensive equipment and vitrectomy skills, SSF-IOL technology may be especially useful in primary hospitals and eye centers, and in underdeveloped or developing settings."
Source: Ting Yu, Mengting Yu, Wenjie Wu et al; Hindawi Journal of Ophthalmology
https://doi.org/10.1155/2021/5525064
Source : Hindawi Journal of Ophthalmology