Opthalmologist versus Singer Mika Singh: Court grants time to doctor to file reply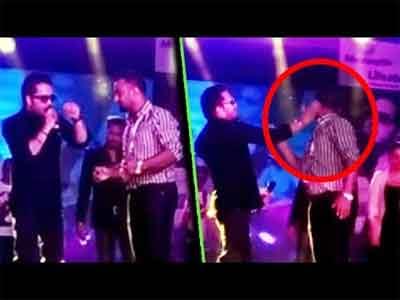 New Delhi:  A Delhi court granted two weeks time to a doctor, who has filed a Rs 50 lakh defamation suit against singer Mika Singh for allegedly slapping him and tarnishing his image at a function here, for filing his rejoinder to the composer's response.
Additional District Judge Rajrani allowed the plea of Dr Srikanth seeking time to file rejoinder and posted the matter for August 24.
The court had earlier asked the doctor's advocates Rajesh Kumar and Ahmad Shahrooz to file rejoinder to Mika's statement and had fixed the matter for admission and denial of documents.
In his written statement, Mika had claimed that the suit was to harass and humiliate him and it should be dismissed with exemplary cost as it was devoid of merits.
He had alleged that the intention was to extort money from him and to pressure him for achieving ulterior motives.
Amrik Singh alias Mika was earlier summoned in the defamation suit filed by Srikanth, an ophthalmologist at Dr Baba Saheb Ambedkar Hospital here, alleging that the singer had slapped him during a live concert, which was coordinated by the Delhi Ophthalmological Society as part of its three-day conference.
Mika, in his statement, had said the contents of the suit are based on media reports and the media houses have filed their own version and their act cannot be attributed to him.
He had denied that he levelled false allegations against the doctor. He had alleged that a case of sexual harassment and uttering words with an intent to outrage modesty of woman has been lodged against the doctor.
The doctor had said that on April 11, 2015, he was dancing at the venue when Mika, without any reason, started pointing fingers at him from the stage and asked him to move aside allegedly in a rude manner using abusive language.
It was alleged in the suit that when the plaintiff did not pay heed to this, the singer got angry and directed his bouncers to drag the doctor to the stage.
It further alleged that Mika slapped the doctor which led to bleeding in his eardrum.
"Shocked and surprised by the illegal and unlawful act of the defendant, the plaintiff felt very hurt, anguished, humiliated and embarrassed as the whole crowd gathered at the venue, most of them were his colleagues and friends...," the doctor said in his plea.
A criminal case was lodged against Mika at Inder Puri Police Station here for alleged offences of causing hurt and wrongful restraint under the IPC.