KIMS doctors perform Single Stage Deformity Correction in patient of Scoliosis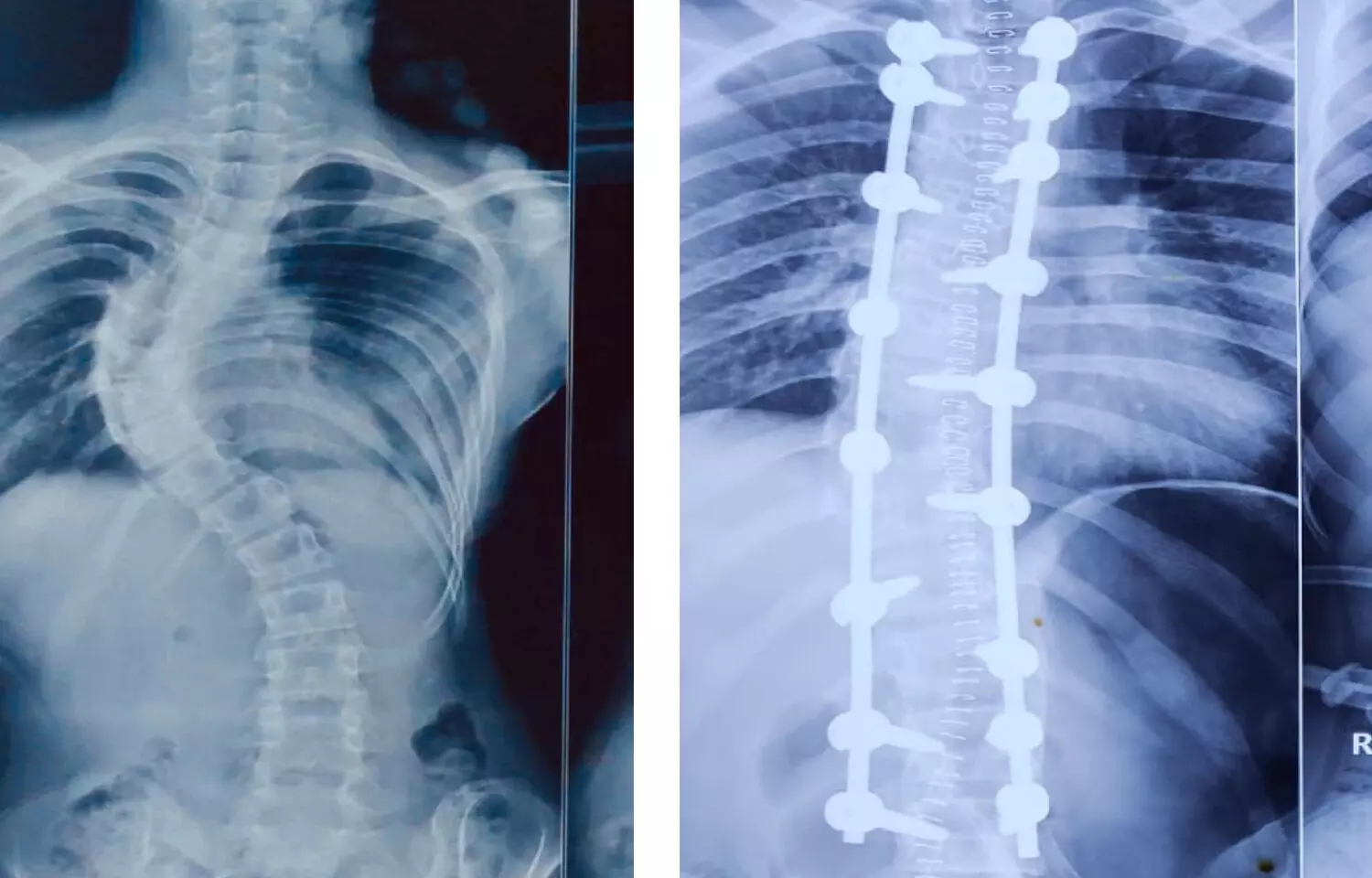 Hyderabad: Scoliosis at a young age, that too for girls, is a curse.
A 14-year old girl from East Godavari district in Andhra Pradesh was diagnosed with scoliosis. So, she was brought to Dr. Suresh Cheekatla, spinal deformity correction specialist of KIMS Secunderabad. 2 years ago, there was just an acute swelling in the back region. But, in the past 6 months, scoliosis has worsened. Uneven shoulders, a hump on the back were observed. Because of these, the physical appearance has changed and the risk of occurrence of health problems has also started. There was not enough space in the chest region for lungs and this resulted in difficulty in breathing which in turn happened to be fatal.

With worsening deformity day by day, patient and parents got anxious about the physical appearance, the social stigma and misconceptions associated with the deformity, Parents have visited and sought medical advice from many doctors and surgeons, but the efforts were in vain.
During the search for an ideal assured treatment for scoliosis deformity of the child, parents came to know about the spinal deformity correction specialist Dr. Suresh Cheekatla at KIMS hospitals, Secunderabad. There is the availability of advanced equipment like O-Arm, Neuro Monitoring, Spinal Navigation which are essential for treating complex spinal deformities.
The patient has been evaluated with proper X-rays, whole spine CT scan, MRI, which were suggestive of Rapidly Progressive Type of Primary Dorsal Kyphoscoliosis. In careful pre-operative workup for the surgery, opinions from cardiology and pulmonology specialists have been taken.
The child was about 14 years old which is nearing the skeletal maturity age and also considering the poor socio-economic status of the parents, we wanted to cut down the cost of surgery by careful and meticulous pre-operative planning Single Stage Deformity Correction has been planned.
Single Stage Deformity Correction was performed by the Consultant Spine Surgeon Dr. Suresh Cheekatla and Dr. Rohit Kilaru from his team with the anesthesia team led by Dr. Naresh Kumar and was able to correct deformity more than 95% without any intra and post-operative complications. The patient has been mobilized in hospital on immediate post operative day without any difficulties.
Generally, these types of spinal deformities require early detection and early interventions in and around the skeletal maturity age to get good deformity correction results.