Fractures including Distal Radial Fracture in young men early sign of hypogonadism?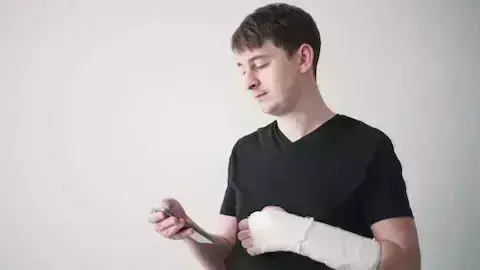 On exploring sex hormone levels in young men with Distal Radius Fracture researchers have found that fracture is associated with higher levels of luteinizing hormone (LH), lower levels of calculated free testosterone (cFT) and a reduced total estradiol to sex hormone-binding globulin (E2/SHBG) ratio. The research was published online in the Journal of Bone and Mineral Research Plus.

Sex hormones have an important role in regulating skeletal growth and maintenance. The major sex hormone regulating bone metabolism in men is testosterone and for women, it is estradiol. However, during the last decade, it has become evident that estradiol is also the hormone of greatest importance for bone metabolism in men. On a previous cross‐sectional, controlled study of adult men of all ages with DRF researchers have found, a lower bone mass and an increasing prevalence of osteoporosis with age when compared with healthy controls. Interestingly, this tendency towards lower bone density was apparent even in the youngest men, below the age of 50 years and regardless of the trauma level caused by the fracture. Whether this is representative for younger men regardless of fracture type or specific to DRFs, is only speculative. To address the knowledge gap in the existing literature regarding younger men with fracture researchers of Lund University, Sweden, conducted a study to investigate whether there are differences in sex hormone levels between men with a DRF and age‐matched controls, and its associated with the probability of fracture in these young men.
It was a cross‐sectional case-control comparative study in 73 men with DRF (mean age 38 ± 9 years; range, 20–51) who were compared with 194 age‐matched, population controls at the Department of Orthopedics, Skåne University Hospital in Malmö, Sweden. Men who fractured during 1999 and 2000 were identified, invited, and examined in 2003. In addition, from 2003 through 2007, men with an acute DRF were consecutively enrolled and were followed prospectively for one‐year postfracture. Researchers performed the assays on total testosterone (TT), calculated free testosterone (cFT), luteinizing hormone (LH), follicle‐stimulating hormone (FSH), sex hormone‐binding globulin (SHBG), and total estradiol (E2). BMD hip and spine were also measured.
Key findings of the study were:
♦After the analysis, researchers found the fracture cases had lower cFT levels (298 versus 329 pmol/L) when compared with controls.
♦They found no significant difference between FSH and SHBG in both groups.
♦They observed LH was almost 30% higher (5.7 vs. 4.5 IU/L) and Estradiol was lower (80.0 vs. 87.1) when compared with the control group.
♦They also found men with DRF had a lower E2/SHBG ratio compared with controls (2.3 vs. 2.9)
♦They observed a higher proportion of the fracture group had low TT (<10.5 nmol/L; 21% vs. 11%), low cFT (<220 pmol/L; 18% vs. 8%) and low E2 (<73 pmol/L; 48% vs. 35%)
♦The odds ratio (OR) for fracture when having low cFT was 2.3 and for low E2, it was 1.7.
The authors concluded, "In this study, to our knowledge the first specifically in young men with DRF exploring sex hormone levels, we find that fracture is associated with higher LH, lower cFT, and E2/SHBG ratio. This highlights the complex nature of bone regulation, reflecting estrogen as a known determinant of bone mass also in men".
They further added, "A DRF, and probably other appendicular fractures in younger men, may therefore be early signs of silent hypogonadism for clinicians to be aware of. Future studies are necessary to explore the relationship further".
For further information:
DOI: https://doi.org/10.1002/jbm4.10421
Article Source :
Journal of Bone and Mineral Research Plus