Guselkumab reduces disease progression in biologic-naive patients with psoriatic arthritis: Study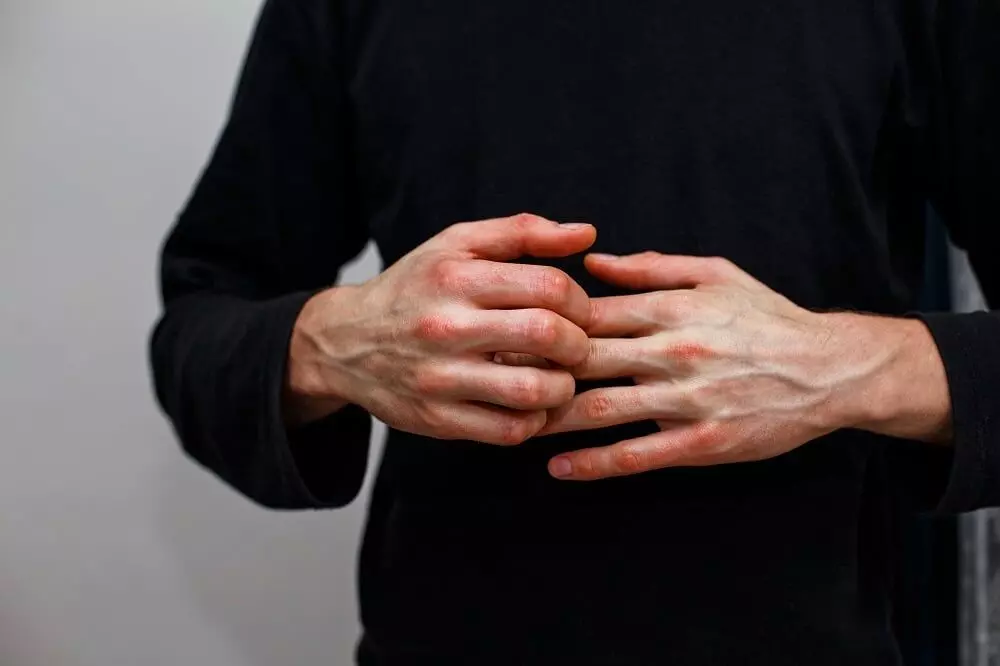 USA: According to new research, guselkumab (GUS) improved joint and skin complaints, physical function in patients with biologic-naive psoriatic arthritis (PsA). The low rates of radiographic progression persisted through 2 years.
GUS, which is an anti-IL-23p 19-subunit, has already been tested in its efficacy against the skin and joint symptoms and restricting structural damage progression in a 1-year double-blinded study. This study was conducted by Iain McInnes and the team to assess the safety and efficacy for an extended 1 year.

In this study, adults with active PsA were randomly assigned (1:1:1) to GUS 100 mg Q4W, GUS 100 mg at W0, W4, and Q8W, or PBO with crossover to GUS 100 mg Q4W (PBOQ4W) at Week(W) 24. W100 was used to assess clinical effectiveness (ACR/PASI/IGA/HAQ-DI) in the modified intention to treat (mITT) population with missing data imputation (nonresponse for categorical endpoints; no change/multiple imputations for continuous endpoints). PsA-modified van der Heijde Sharp (vdH-S) ratings were calculated from blinded radiographic images taken at W0, W24, W52, W100 (or at discontinuance [d/c]) and adverse events (AEs) until W112.
The results came out to be;
712/739 (96%) of randomized individuals continued the study agent at W24; 687/739 (93%) continued at W52; and 652/739 (88%) finished W100.
ACR20 response rates in the mITT population increased after W24, reaching 76% for Q4W and 74% for Q8W at W100. ACR50/70, HAQ-DI, and PASI90/100 response rates, as well as IGA0/1 and PASI75 response rates, were consistent through W100 in patients randomized to Q4W and Q8W;
W100 results for PBOQ4W patients were consistent with patients treated with Q4W and Q8W. GUS gains in SF-36 PCS/MCS continued until W100.
Radiographic advancement rates were low for Q4W and Q8W from W52 to W100. Radiographic progression was 1.12 during W0-W24 (when on PBO), 0.51 during W24-W100, and 0.13 during W52-W100 in the PBOQ4W group (n=228).
AEs, serious AEs (SAEs), AEs leading to d/c, infections, major infections, and injection site reactions were largely consistent with the PBO-controlled period and through 1 year.
Out of the patients in the Q4W (n=245), Q8W (n=248), and PBOQ4W (n=238) groups, 9%, 9%, and 7% had one SAE; 2%, 3%, and 3% had one serious infection; 2 Q8W patients and 1 PBOQ4W patient (listeria meningitis) had opportunistic infections; 1 PBO-randomized patient died (road traffic accident).
None of the patients had any anaphylactic shock, serum reaction, or active TB.
In conclusion, GUS safety in PsA was comparable at 6 months and 1 year, throughout 2 years comparable between Q4W and Q8W, and consistent with GUS safety in psoriasis.
Reference:
McInnes I, Rahman P, Gottlieb A, Hsia E, Kollmeier A, Xu X, Sheng S, Jiang Y, Shawi M, Chakravarty S, van der Heijde D, Mease P. Efficacy and Safety of Guselkumab, a Monoclonal Antibody Specific to the p19-Subunit of Interleukin-23, Through 2 Years: Results from a Phase 3, Randomized, Double-blind, Placebo-controlled Study Conducted in Biologic-naïve Patients with Active Psoriatic Arthritis [abstract]. Arthritis Rheumatol. 2021; 73 (suppl 10). https://acrabstracts.org/abstract/efficacy-and-safety-of-guselkumab-a-monoclonal-antibody-specific-to-the-p19-subunit-of-interleukin-23-through-2-years-results-from-a-phase-3-randomized-double-blind-placebo-controlled-study-cond/. Accessed November 29, 2021.
Source : American College of Rheumatology