Low back pain linked to Temporomandibular disorder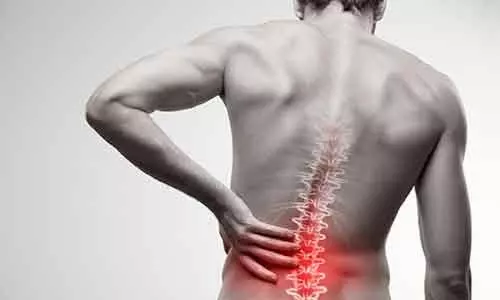 Taiwan: Patients with low back pain (LBP) are at increased risk of developing temporomandibular disorder (TMD), finds a recent study published in the journal Medicine.
According to the study, LBP patients are 56% more likely to develop first-onset TMD than those without back pain. Results suggest that clinicians should be reminded to manage LBP disorders concurrently when treating TMD.
Temporomandibular disorders are complex and multifactorial diseases. Common signs and symptoms include orofacial pain, clicking or crepitus of the temporomandibular joints (TMJ), limited mandible movement, and deviation from the midline during movement. It is also associated with simultaneous pain in the head, neck, and back areas. The evidence have shown TMD to be co-existent with numerous systemic disorders including fibromyalgia, low back pain, spinal pain, chronic fatigue syndrome, irritable bowel syndrome, sleep disorders, tension-type and migraine headaches, and allergic conditions. It is not easy to cure and treat owing to the complexity of the symptoms and etiology.
LBP is the most common musculoskeletal condition affecting the adult population -- >70% of the population has experienced an acute episode of LBP at some point in their lives. If LBP and TMD occur concurrently, functional activities would be most affected. Therefore, early prevention of TMD occurrence as comorbidity in patients with LBP is important, to avoid the profound functional limitation.
Yi-Shing Shieh, Department of Dentistry, Tri-Service General Hospital, National Defense Medical Center, Taipei, Taiwan, and colleagues aimed to investigate the association between LBP and first-onset TMD and to determine the possible mechanism linking these two diseases, using the Taiwan's National Health Insurance Research Database (NHIRD) with a 15-year follow up.
For the purpose, the researchers analyzed data of 65,121 patients newly diagnosed with LBP along with those of 195,363 (1:3) sex- and age-matched controls.
Key findings of the study include:

The LBP group was more likely to develop first-onset TMD (adjusted hazards ratio (HR) = 1.561), after adjusting for demographic variables and comorbidities.
The risk factors for TMD were LBP, young age, higher insured premium, and osteoporosis.
In the subgroup analysis, the LBP group had a higher risk of TMD than the non-LBP group in all stratifications.
"LBP is a risk factor contributing to the development of first-onset TMD. Therefore, for appropriate TMD management, clinicians should be reminded to manage both LBP disorders and TMD concurrently, especially among individuals presenting with associated risk factors, such as age 20 to 39 years, high IP, and osteoporosis," concluded the authors.
The study, "The prevalence of first-onset temporomandibular disorder in low back pain and associated risk factors: A nationwide population-based cohort study with a 15-year follow-up," is published in the journal Medicine.
Source : journal Medicine