Oral glucocorticoids, PPI combo increases fracture risk in RA patients: ASBMR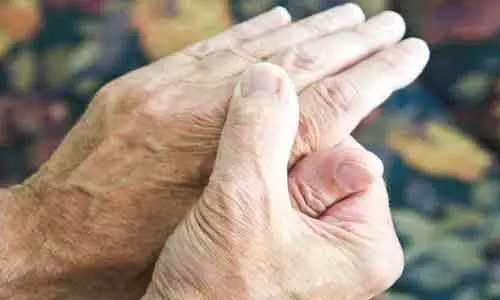 UK: The use of proton pump inhibitors (PPIs) with oral glucocorticoids (GCs) increases the risk of osteoporotic (OP) fractures in rheumatoid arthritis patients, suggests a recent study. The results of the study were presented at the American Society for Bone and Mineral Research (ASBMR) virtual Annual Meeting, held from September 11 to 15, 2020.
The findings may be clinically relevant in RA patients treated with a combo of oral GCs and PPIs, considering the increasing life expectancies and high PPIs consumption among elderly patients.

Rheumatoid arthritis is a chronic inflammatory disease associated with a lot of ailments and difficulties for the patients -- one of the complications being fractures that are very dangerous and deadly. Several factors contribute to increased fracture risk in RA patients including the medications used. Oral glucocorticoids being the most important drugs in RA that have a role in osteoporosis. They are also prescribed NSAIDs as pain killers that can develop peptic ulcers and stomach upset. Other medications such as PPIs normally accompany them to reduce the acidity and peptic ulcer risk. Previous studies have shown PPIs to be associated with an increased risk of OP fracture. But no study has considers the use of both GCs and PPIs together and fracture risk in RA patients.
Shahab Abtahi, Utrecht University, Utrecht, Netherlands, and colleagues investigated the association between concomitant use of glucocorticoids and proton pump inhibitors and fracture risk among rheumatoid arthritis patients.
In the retrospective cohort study, researchers extracted data from the Clinical Practice Research Datalink (from 1997 to 2017_ -- that included de-identified medical records data from a network of general practitioner clinics across the United Kingdom. The patients were deemed eligible for the cohort who had rheumatoid arthritis and aged >50 years. Medical record review was used to determine the exposure to PPIs and oral GCs. The primary outcome was osteoporotic fracture, including fracture of the hip, vertebrae, humerus, forearm, pelvis, or ribs.
The study cohort included 12,351 patients with RA with a mean age of 68 years; 69% were women.
Key findings of the study include:
A total of 1411 osteoporotic fractures were observed during follow-up.
Concomitant current use vs nonuse of oral GCs and PPIs was associated with significantly increased risk for osteoporotic fractures (hazard ratio [HR], 1.60).
Current use vs nonuse of GCs only (HR, 1.23) and PPIs only (HR, 1.22) also conferred increased risk for osteoporotic fractures, though not to the extent of concomitant use.
Models assessing individual fracture sites revealed similar results.
In patients with concomitant current use of GCs and PPIs, higher daily dose and longer duration of PPI use did not appear to further increase fracture risk.
In age- and sex-adjusted hazard models, current PPI use was associated with a 1.3-fold increased risk for osteoporotic fracture compared to nonuse.
"Concomitant use of oral GCs and PPIs appeared to increase osteoporotic fracture risk beyond that observed with either medication alone," concluded the authors.
"Concomitant use of oral glucocorticoids and proton pump inhibitors, and risk of osteoporotic fractures among patients with rheumatoid arthritis: a population-based cohort study," was presented at the ASBMR virtual Annual Meeting 2020.
Source : ASBMR Annual Meeting 2020