Rheumatoid Arthritis linked to lower risk of type 2 diabetes, claims study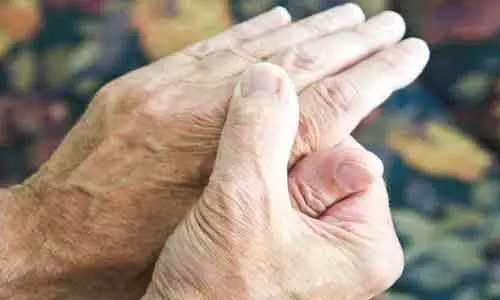 Rheumatoid arthritis (RA) patients had a lower rate of incident type 2 diabetes mellitus(T2DM) compared to the general non-RA, hypertension, Osteoarthritis, and Psoriatic arthritis cohorts, suggests a new study.

Findings have recently been published in Arthritis Care & Research.
Rheumatoid arthritis (RA) is a systemic inflammatory condition which primarily involves synovial joints but also causes widespread extraarticular inflammation and elevated risk and mortality related to cardiovascular disease (CVD).It is well documented that proinflammatory cytokines such as tumor necrosis factor-alpha (TNFα) and interleukin-6 (IL-6) which play critical roles in RA pathogenesis, also simultaneously interfere with insulin-signaling mechanisms which are associated with insulin resistance and type 2 DM (T2DM).
Previous epidemiologic studies have yielded inconsistent relative risk estimates for the relationship between type 2 diabetes mellitus (T2DM) in rheumatoid arthritis (RA) and have demonstrated a modest increase or no increase in the risk of T2DM in patients with RA versus non-RA general population.
A research team under Jin Y, at the Division of Pharmacoepidemiology and Pharmacoeconomics, Brigham and Women's Hospital, Harvard Medical School, examined the risk of incident type 2 diabetes mellitus (T2DM) among RA patients versus four different comparison cohorts.
The researchers conducted a retrospective cohort study using claims data from Optum© Clinformatics® Data Mart (Optum) from 01/01/2005-12/31/2017.
The RA cohort was identified by ≥2 inpatient or outpatient International Classification of Diseases, Ninth Revision, Clinical Modification (ICD-9) or 10th Revision (ICD-10) diagnosis codes of RA, separated by 7-365 days and having at least one dispensing for disease-modifying anti-rheumatic drugs (DMARD) within one year from the first RA diagnosis date.
Four comparison cohorts with ≥2 disease-specific diagnoses and ≥1 dispensing of disease-specific drugs: 1) general non-RA patients, 2) hypertension, 3) osteoarthritis (OA), and 4) psoriatic arthritis (PsA) patients were allocated.
The primary outcome was incident T2DM defined as at least one inpatient or outpatient diagnosis of T2DM plus at least one dispensing of an antidiabetic drug during follow-up.
Results revealed the following key facts.
A total of 449,327 RA, general non-RA, hypertension, OA, or PsA patients were selected. During the median of 1.6 (range=0.6-3.3) years of follow-up, the incidence rate of T2DM was the lowest in the RA cohort (7.0 per 1,000 person-years) and highest (12.3 per 1,000 person-years) in the hypertension cohort. After adjusting for >40 baseline covariates, RA was associated with a 24-35% lower risk of incident T2DM compared to four comparison groups.
"While systemic inflammation in RA increases the risk of cardiovascular disease, our findings suggest that having RA itself does not confer an increased risk of T2DM. Future study should determine whether untreated RA or undertreated RA is associated with a greater risk of developing T2DM." wrote the team.
For full article follow the link: https://doi.org/10.1002/acr.24343
Primary source: Arthritis Care & Research
Source : Arthritis Care & Research