Ultrasound-guided release bests traditional surgery in carpel tunnel syndrome: AJR study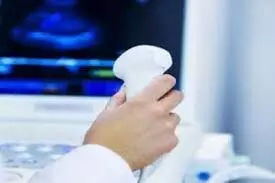 Most people with carpal tunnel syndrome only consider having surgery if other treatments don't provide enough relief. Surgery can help relieve symptoms or make them go away for good, but it is not without risks. However, Ultrasound guidance allows carpal tunnel release to be performed with smaller incisions and quicker recovery than traditional open or endoscopic surgery.
In a recent study, researchers evaluated the long-term effectiveness of ultrasound-guided carpal tunnel release in improving function and discomfort in patients with carpal tunnel syndrome and they found that Ultrasound-guided carpal tunnel release quickly improves hand function and reduces hand discomfort and they realized that the improvement persisted beyond one year.

The study is published in the American Journal of Roentgenology.
The authors conducted 61 ultrasound-guided carpal tunnel release procedures performed in 46 patients (15 bilateral procedures) diagnosed with carpal tunnel syndrome. Patients answered three questionnaires – Quick–Disabilities of the Arm, Shoulder, and Hand [QDASH] and two parts of the Boston Carpal Tunnel Syndrome Questionnaire: symptom severity [BCTSQ-SS] and functional status [BCTSQ-FS] scales to assess the affected wrist's function and discomfort immediately pre-procedure, 2 weeks post-procedure, and at least one year post-procedure. Higher scores indicated increasing disability. Patients also answered a global satisfaction question at follow-up. Pre-and post-procedure scores were then compared.
The following findings were drawn –
1. Median pre-procedure scores were 45.4 for QDASH, 3.2 for BCTSQ-SS, and 2.5 for BCTSQ-FS.
2. Median 2 week post-procedure scores were 22.5 for QDASH, 1.7 for BCTSQ-SS, and 1.9 for BCTSQ-FS, all decreased from pre-procedure scores.
3. Follow-up questionnaires were obtained for 90% of wrists, a median of 1.7 (1.0-2.8) years post-procedure, with further declines in median scores: 2.3 for QDASH, 1.2 for BCTSQ-SS, and 1.1 for BCTSQ-FS.
4. At long-term follow-up, 96% of wrists demonstrated lower QDASH, and 98% lower BCTSQ (average of BCTSQ-SS and BCTSQ-FS), vs. pre-procedure scores.
No immediate postoperative complications occurred just that two patients required surgical intervention 8-10 days postoperatively, one for infection following injury and one for post-traumatic compartment syndrome.
Hence, the authors therefore concluded that Ultrasound-guided carpal tunnel release can definitely improve the hand function and reduce hand discomfort in the long run.
Source : American Journal of Roentgenology