Upadacitinib may alone improve treatment outcomes in rheumatoid Arthritis: Study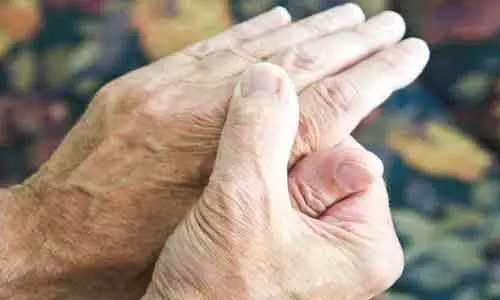 Monotherapy with Upadacitinib demonstrated significant improvements in clinical, radiographic, and patient‐reported outcomes in patients with predominantly early rheumatoid arthritis and who have had limited exposure to methotrexate, finds a study. The study was published in the journal 'Arthritis & Rheumatology' 2020.
Rheumatoid arthritis is a chronic autoimmune inflammatory disease which mainly affects the peripheral joints. Synovial inflammation and hyperplasia, autoantibody production, cartilage damage and bone destruction, leading to co-morbidities are the main disease characteristics. Upadacitinib is an oral, reversible, JAK1 selective inhibitor and disease modifying anti rheumatic drug. Select – Early trial is a randomised, double-blind, active-comparator, Multicentre, multi-country trial which measured the safety and efficacy of upadacitinib as monotherapy in moderately to severely active rheumatoid arthritis.
There were totally 947 participants in the study. The trial was carried out for 24 weeks. The participants were randomly divided to once‐daily upadacitinib either 15mg or 30mg or weekly methotrexate at 7.5–20mg/week for 24 weeks. The primary endpoints of measurement were the proportions of patients achieving ≥50% response in the American College of Rheumatology (ACR) criteria at Week 12, and proportions achieving a 28‐joint Disease Activity Score including C‐reactive protein (DAS28[CRP]) of <2.6 at Week 24.
The key findings of the study were:
At baseline, median disease duration was 0.5 years (range 0–44 years).
Out of the total, 840 (89%) patients completed 24 weeks of treatment.
The study met both primary endpoints for upadacitinib 15mg and 30mg versus methotrexate (ACR50 at Week 12: 52% and 56% versus 28%, P <0.001; DAS28(CRP) <2.6 at Week 24: 48% and 50% versus 19%, P <0.001).
Statistically significant and clinically meaningful improvements in multiple patient‐reported outcomes were recorded with both upadacitinib doses versus methotrexate.
Overall, 88% and 89% of upadacitinib 15mg and 30mg patients had no radiographic progression (mTSS ≤0; methotrexate: 78%; at least P <0.01).
Through Week 24, the frequency of treatment‐emergent adverse events was similar between the methotrexate (65%) and upadacitinib 15mg arms (64%), but slightly higher in the upadacitinib 30mg arm (71%).
Six deaths were reported (upadacitinib 15mg: 2, upadacitinib 30mg: 3, methotrexate: 1).
Thus, the researchers concluded that both doses of upadacitinib monotherapy demonstrated significant improvements in clinical, radiographic, and patient‐reported outcomes when compared to methotrexate.
For further reading, click the following link: https://doi.org/10.1002/art.41384
Source : Arthritis and Rheumatology