Chronic Low Back Pain: Practice Update and Clinical Application of Pregabalin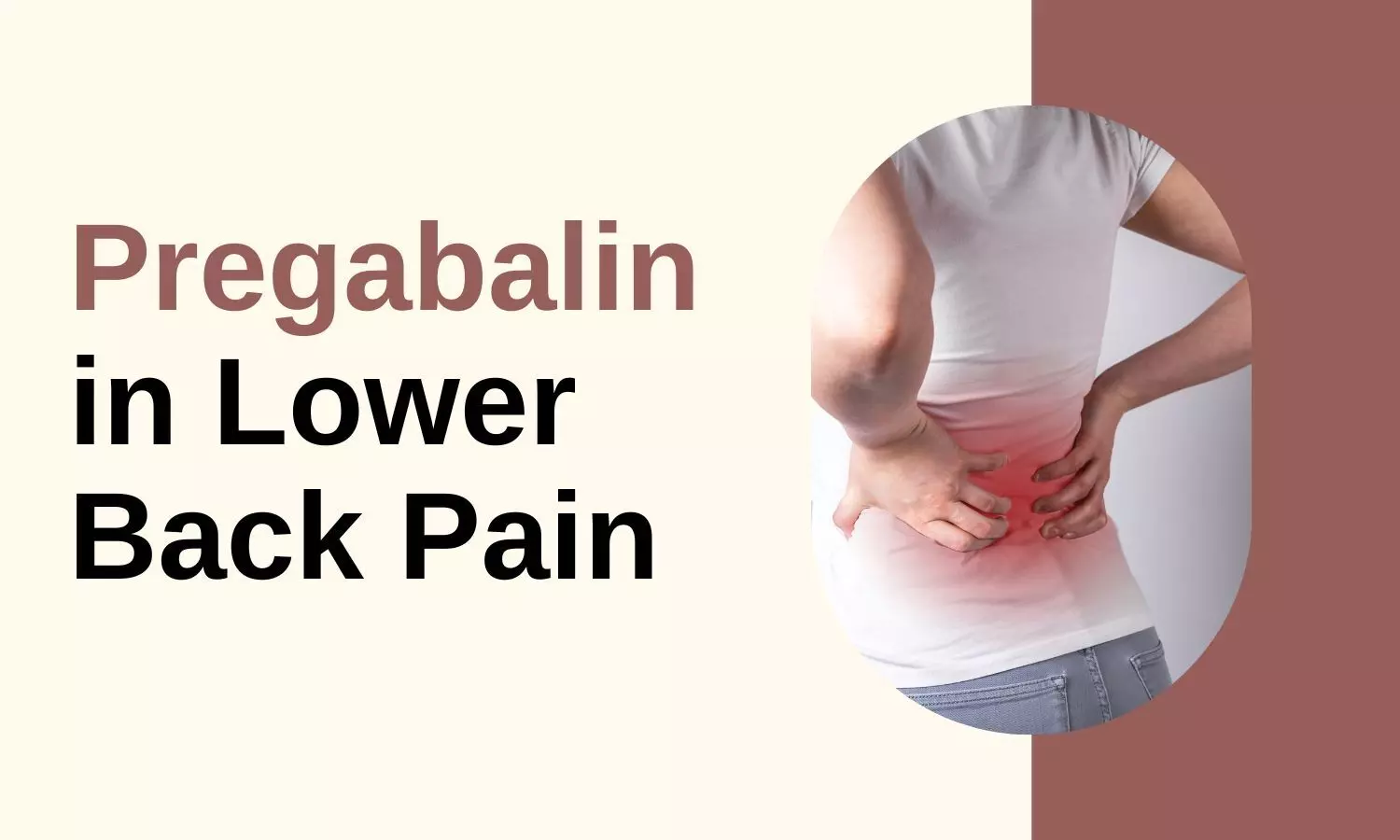 Millions of people suffer from lower back pain, and it is one of the ailments which deteriorates the quality of life more than any other illness.[1] Low back pain (LBP) is described as pain and discomfort occurring below the costal margins and above the inferior gluteal folds, with or without referred leg pain. A published cohort conducted in primary healthcare settings concluded that almost two third of patients develop chronic lower back pain during their lifetime. [2]
Chronic LBP is a complicated, heterogeneous illness that may involve both nociceptive and neuropathic pain pathways. Nociceptive pain in LBP is caused by the activation of nociceptors, which innervate ligaments, joints, muscles, fascia, and tendons in reaction to tissue injury or inflammation, as well as biomechanical stress. Neuropathic back pain is pain caused by an injury or disease that directly affects the nerve roots that innervate the spine and lower limbs, as well as pathological invasive innervation of the injured lumbar discs. Chronic LBP is increasingly thought to be a mixed pain condition with both nociceptive and neuropathic components, and it has been proposed that the neuropathic components of chronic LBP are under-recognized and, thus, under-treated. [2]
Neuropathic Pain Manifesting As Chronic Lower Back Pain
According to the International Association for the Study of Pain's definition, neuropathic pain is "pain arising as a direct result of a lesion or disease affecting the somatosensory system." Neuropathic pain is distinguished by painful signs and symptoms that arise in an area of altered sensation- numbness or hyperexcitability. Various symptoms, such as sensory impairments, motor weakness, and, most notably, pain, can be linked to a variety of degenerative processes in the spinal axis. Mechanical nerve root compression (mechanical neuropathic root pain), lesions of nociceptive sprouts within the degenerated disc (local neuropathic pain), or the action of inflammatory mediators such as chemokines and cytokines, which can originate from the degenerative disc even in the absence of mechanical stress (inflammatory neuropathic root pain), may all be the probable pathogenesis of neuropathic pain which can manifest as chronic lower back pain. [3]
Management of Chronic Lower Back Pain Arising from Neuropathic Component
Treatment recommendations for chronic lower back pain have been established, and while non-pharmacological modalities are used and clinically relevant, management is largely pharmacologic. However, the presence of a neuropathic element complicates treatment because many of the typical analgesics indicated in the guidelines, such as acetaminophen and nonsteroidal anti-inflammatory medications, are ineffective for Neuropathic pain. Such challenges in treating neuropathic pain bring rationalization for the establishment of distinct neuropathic pain management recommendations. [4]
Pregabalin: Pharmacological Overview
Pregabalin, (S)-3-(aminomethyl)-5-methyl hexanoic acid, is the active S-enantiomer of a racemic 3-isobutyl gamma amino butyric acid analog. It's a well-known analgesic and anticonvulsant agent. In fact, pregabalin is the first agent to be approved by the Food and Drug Administration (FDA) for the treatment of diabetic neuropathy and post-herpetic neuralgia. Preclinical and clinical trials have demonstrated the efficacy of pregabalin in the treatment of neuropathic pain. Animal studies have aided in the description of the processes behind its anti-hyperalgesic and anti-allodynic effects. Clinical investigations have also demonstrated the efficacy and dose-dependent benefits of pregabalin in reducing pain and accompanying symptoms, either as monotherapy or in combination with analgesics. Pregabalin's main advantage in individuals with neuropathic pain is its relative dependability of efficacy and ease of usage. [5]
Mechanism of action of pregabalin: The presynaptic binding of pregabalin to voltage-gated calcium channels is critical to the antiseizure and antinociceptive effects as evident in preclinical studies. Pregabalin controls the release of various excitatory neurotransmitters, including glutamate, substance-P, norepinephrine, and calcitonin gene-related peptide, by binding pre-synaptically to the alpha2-delta subunit of voltage-gated calcium channels in the central nervous system. Furthermore, pregabalin inhibits the trafficking of the alpha2-delta subunit from the dorsal root ganglia to the spinal dorsal horn, which may contribute to its activity. Despite being a structural derivative of the inhibitory neurotransmitter gamma-aminobutyric acid (GABA), pregabalin does not bind to GABA or benzodiazepine receptors.[6]
Clinical Evidence Directing Alleviation of Neuropathic Pain by Pregabalin
Benefits of Combing Pregabalin to NSAID

: A randomized phase 3 trial conducted across 12 centers in India, which included 319 patients assessed the utility of a fixed-dose combination [FDC] of pregabalin and etoricoxib over monotherapy of etoricoxib in the treatment of lower back pain. The eighth week's long study used the Roland–Morris disability questionnaire [RDQ], a self-administered disability measure in which higher numbers reflect greater levels of disability on a 24-point scale. A visual analog scale (VAS, 0-100 mm) was also used that represents a continuum between "no pain" and "worst pain. The study concluded that FDC consisting of prolonged-release 75 mg pregabalin and etoricoxib 60 mg was more effective than monotherapy of etoricoxib 60 mg in terms of a more significant reduction in RDQ score (−9.28 ± 4.48 vs −6.78 ± 4.34; p < 0.0001) and VAS score (− 37.66 ± 18.7 vs − 28.50 ± 16.31; p < 0.0001) at the end of week 8 for the treatment of lower back pain. [7]

Pregabalin Improves Chronic Refractory Low Back Pain: A prospective study of 683 patients (aged >or=18 years) with a 6-month history of chronic refractory low back pain found that pregabalin (mean [SD] dose 189.9 [141.7] mg/day) for 12 weeks reduces pain severity more than usual care (analgesic) (61.6% vs. 37.3%), with a significant reduction in overall cost. [8]
Pregabalin Benefits Persistent Lower Back Pain: A 6-week observational study enrolled 3800 subjects from primary care settings in Germany and demonstrated that pregabalin (mean [SD] doses were 219[95]mg/day) improves pain and sleep disturbance when used for the treatment of persistent lower back pain with a neuropathic pain component. [9]
Pregabalin Improves Quality of Life Compared to NSAIDs: A non-interventional study of patients with chronic lower back pain with a neuropathic component who were treated with pregabalin [doses were flexible reflecting the real-world clinical practice, doses were 25-300 mg/day] revealed significant improvements in pain-related sleep interruption, pain, function, and health status compared to standard therapy (analgesic). These benefits were not only seen at the primary endpoint (change from baseline in pain-related interference with sleep) within 8 weeks, but the majority of them were also significant after four weeks of treatment. Pregabalin was likewise found to be safe and well-tolerated. The dose range used in this trial was 25-300 mg/day, mirroring real-world clinical practice. [4]
Pregabalin Helps in Lumbar Spinal Stenosis Pain: A prospective study assessed the efficacy of pregabalin for neuropathic leg pain in lumbar spinal stenosis having disturbed activities of daily living or troubled quality of life. The study included 57 subjects where pregabalin was initiated at a dose of 25mg/d, which was gradually increased every week to 150mg/d over 6 weeks, depending on their pain intensity. The study concluded that pregabalin significantly improved VAS scores [Visual Analog Scale] for pain and sleep quality among subjects, thus decreasing the intensity of the lower back pain, which hampered the quality of life. [10]
Summary
Chronic lower back pain adversely hampers the quality of life, thus decreasing productivity. Neuropathic pain is a primary contributor to chronic lower back pain. There is enough data to suggest that up to 35% of patients with back pain have neuropathic pain.[3] It has been proven from various clinical evidence that the use of pregabalin is highly effective in neuropathic pain treatment with a well-tolerated safety profile.[5] Pregabalin can be used as monotherapy or in combination with other drugs to provide relief in patients having chronic lower back pain. [4]
Reference
1. Enke O, New HA, New CH, Mathieson S, McLachlan AJ, Latimer J, Maher CG, Lin CC. Anticonvulsants in the treatment of low back pain and lumbar radicular pain: a systematic review and meta-analysis. CMAJ. 2018 Jul 3;190(26):E786-E793. doi: 10.1503/cmaj.171333. PMID: 29970367; PMCID: PMC6028270.
2. Baron R, Binder A, Attal N, Casale R, Dickenson AH, Treede RD. Neuropathic low back pain in clinical practice. Eur J Pain. 2016 Jul;20(6):861-73. doi: 10.1002/ejp.838. Epub 2016 Mar 2. PMID: 26935254; PMCID: PMC5069616.
3. Freynhagen R, Baron R. The evaluation of neuropathic components in low back pain. Curr Pain Headache Rep. 2009 Jun;13(3):185-90. doi: 10.1007/s11916-009-0032-y. PMID: 19457278.
4. Taguchi T, Igarashi A, Watt S, Parsons B, Sadosky A, Nozawa K, Hayakawa K, Yoshiyama T, Ebata N, Fujii K. Effectiveness of pregabalin for the treatment of chronic low back pain with accompanying lower limb pain (neuropathic component): a non-interventional study in Japan. J Pain Res. 2015 Aug 5;8:487-97. doi: 10.2147/JPR.S88642. PMID: 26346468; PMCID: PMC4531006.
5. Verma V, Singh N, Singh Jaggi A. Pregabalin in neuropathic pain: evidences and possible mechanisms. Curr Neuropharmacol. 2014 Jan;12(1):44-56. doi: 10.2174/1570159X1201140117162802. PMID: 24533015; PMCID: PMC3915349.
6. https://go.drugbank.com/drugs/DB00230
7. Yeole, A.B., Sree Ranga Lakshmi, G., Selvakumar, C.J. et al. Efficacy and Safety of Pregabalin Prolonged Release–Etoricoxib Combination Compared to Etoricoxib for Chronic Low Back Pain: Phase 3, Randomized Study. Pain Ther 11, 1451–1469 (2022). https://doi.org/10.1007/s40122-022-00437-2
8. Morera-Domínguez C, Ceberio-Balda F, Flórez-García M, Masramón X, López-Gómez V. A cost-consequence analysis of pregabalin versus usual care in the symptomatic treatment of refractory low back pain: sub-analysis of observational trial data from orthopaedic surgery and rehabilitation clinics. Clin Drug Investig. 2010;30(8):517-31. doi: 10.2165/11536280-000000000-00000. PMID: 20513162.
9. Toelle T, Varvara R, Nimour M, Emir B, Brasser M. Pregabalin in neuropathic pain related to DPN, cancer and back pain: analysis of a 6-week observational study. Open Pain J. 2012;5:1–11
10. Orita S, Yamashita M, Eguchi Y, Suzuki M, Inoue G, Miyagi M, Watanabe T, Ozawa T, Kamoda H, Ishikawa T, Aoki Y, Ito T, Kubota G, Suzuki M, Yamauchi K, Hanaoka E, Sakuma Y, Shimbo J, Oikawa Y, Suzuki T, Takahashi K, Ohtori S. Pregabalin for Refractory Radicular Leg Pain due to Lumbar Spinal Stenosis: A Preliminary Prospective Study. Pain Res Manag. 2016;2016:5079675. doi: 10.1155/2016/5079675. Epub 2016 Mar 29. PMID: 27445615; PMCID: PMC4904630. Dr Kamal Kant Kohli-MBBS, DTCD- a chest specialist with more than 30 years of practice and a flair for writing clinical articles, Dr Kamal Kant Kohli joined Medical Dialogues as a Chief Editor of Medical News. Besides writing articles, as an editor, he proofreads and verifies all the medical content published on Medical Dialogues including those coming from journals, studies,medical conferences,guidelines etc. Before Joining Medical Dialogues, he has served at important positions in the medical industry in India including as the Hony. Secretary of the Delhi Medical Association as well as the chairman of Anti-Quackery Committee in Delhi and worked with other Medical Councils in India. Email: editorial@medicaldialogues.in. Contact no. 011-43720751