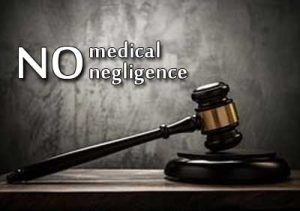 New Delhi: A senior orthopedician and Delhi's Gangaram Hospital have been recently absolved in a medical negligence, with the National Consumer Disputes Redressal Commission dismissing the appeal alleging medical negligence against them The case is that of a patient, who suffered a fracture of right leg during accident on 16.1.2004, evening. He referred to an orthopedician who put plaster on his leg. After three months, the doctor opened the plaster and found that the patient's leg was bent and thereafter when the leg did not heal despite rest, advised surgery for the bent leg.
Patient's Allegations
In his submissions, the patient informed that he approached Sir Ganga Ram Hospital at Delhi and consulted Dr. S. P. Mandal an Orthopaedic Surgeon, who performed High Tibial Osteotomy on the patient on 8.6.2004. The complainant alleged that during surgery, the doctor had negligently cut the Right Superficial Peroneal Nerve. It was intentionally not revealed to the complainant and plastered his leg for two months. After removal of plaster, the complainant had right foot drop. It made the complainant unable to walk on barefoot or with chappal. He approached the doctor again, who prescribed some medicines and advised exercise but there was no relief. Hence, the complainant approached Mata Channan Devi Hospital, wherein Nerve Conduction Test (NCT) and other tests confirmed about Right Peroneal Nerve cut. As per the patient's narrative along with those reports, when the patient approached Dr Mandal who, after perusing the reports, told the complainant not to reveal the said fact to anyone and he will cure it by another surgery without any charges.  He also alleged that Dr Mandal also had offered a cheque of Rs.10,000/- to the complainant to keep mum in this matter. The patient hence filed an appeal with the consumer forum alleging negligence and demanding compensation.
Doctor/Hospital Submission:-
The doctor and the hospital in their submissions stated that there was no medical negligence in the treatment of the patient. The complainant was admitted in Sir Ganga Ram Hospital on 6.6.2004, and was  operated on by Dr Mandal, assisted by qualified team of doctors after due explanation and informed consent . The surgery was uneventful. There was no nerve damage or cut during the said surgery. As a routine procedure, the operated limb was protected in a plaster cast and the patient was discharged from the hospital on 11.6.2004. Regular dressing was done and there was no evidence of nerve palsy during the early post operative period. On removal of plaster, it was noticed that the patient was unable to move his ankle and toes upwards and, therefore, possibility of Peroneal Nerve Palsy was suspected, therefore, the patient was advised to wear a splint to avoid further flexion deformity of the foot and ankle. At the same time, he was advised to undergo NCV test to evaluate the nature of suspected nerve palsy. The observations in NCV test were not conclusive of the fact that the nerve had been cut or damage. Therefore, the complainant was advised by the doctor for re-exploration of the nerve for further management. The re-exploration was performed on 8.10.2004. It was found that the Peroneal nerve was intact with Neuroma formation (Neuroma in continuity). It was noticed that the nerve was entrapped in surrounding fibrous tissue resulting in Compressive Neuropathy. According to the doctor  and medical literature, it was a consequence of upper tibial osteology surgery. After second operation (re-exploration), the complainant was discharged on 11.10.2004. The discharge report, the Neuroma in Continuity was mentioned. Dr Mandal had made efforts to correct the deformity in complainant's mal-united limb. The counsel for the OP submitted that there was no negligence during the treatment of the complainant. He further submitted that OP had donated Rs.10,000/- to the complainant by way of cheque since he had always been inclined to help the needy and physically handicapped, both individually as well as in the capacity as a President of Amar Jyoti, established for physically handicapped. The court after hearing the submissions quoted the expert opinion given by Dr. Raghwan, Chief Medical Officer, Safdarjung Hospital. It is reproduced as under:
"Sh. Bhushan Batra sustained injury ( R) knee with fracture of upper end of Tibia due to road traffic accident [RTA] in January, 2004. He was given POP Cast for three months. At the time of admission at Sir Ganga Ram Hospital on 06.06.04, he was unable to walk without support of crutches and was moving toes actively. But, it was not known whether there was full range of movements at ankle joint. He underwent high tibial osteotomy (Rt) and above knee POP cast on 08.06.04. He was readmitted at SGRH on 06.10.04 with complaint of inability to move upward R) foot and he was noticed to have foot drop (Rt.) with restriction of range of movement at (R ) ankle. NCV study on 20.09.04 suggested ® common peroneal motor sensory neuropathy. He underwent peroneal nerve neurolysis ® on 08.10.04 in view of presence of Neuroma in continulty of common peroneal nerve. Injury of (R) knee and upper leg due to RTA as well as surgery around (R ) knee can cause common peroneal nerve lesion as a complication. It was not clear from available documents whether range of movements at ( R ) ankle was restricted after injury but before first surgery or it was followed after surgical procedure."
The court observed that the patient was treated properly and there was no negligence. The Peroneal nerve has not been cut at all. Regarding NCT conducted on the complainant, it revealed only that Right superficial peroneal did not record a recordable potential . Thus, it was not a conclusion that there was a cut or damage to the Peroneal nerve. The medical literature on the subject revealed that there is over all 3% chances of injury to the Peroneal nerve after the surgery. As far as treatment of Dr Mandal was concerned the court did not find that the treating Orthopaedician, Dr. Mandal/OP 1 was negligent while treating the patient. He had treated the patient as per normal standard of practice i.e. reasonable practice, required for map-united fracture of tibial plateau. Furthermore, the doctor had also performed re-exploration and necrolysis for the entrapped of Peroneal nerve. The Peroneal nerve injury is a known complication of Road Traffic Accident (RTA) injury to the knee joint and also seen post operatively. Nothing is on record to prove that the nerve was totally cut, even the patient failed to provide post treatment disability status. Attached is the judgement below
1 comment(s) on Senior Orthopedician, Ganga Ram Hospital absolved of medical negligence