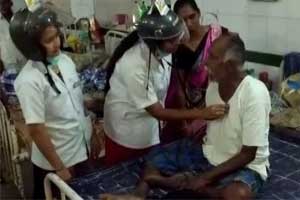 Hyderabad: Junior doctors at the state-run Osmania hospital here held a protest over the weekend by wearing helmets to highlight the allegedly dilapidated condition of the century-old building.
"It is unsafe for anyone as the building is in very bad shape, with chunks falling down from the roof of the building," Dr Vijayender, Chairman of the Telangana Junior Doctors Association, said.
The helmets, doctors pointed out was a symbolised their need for protection, as there have been multiple instances where chunks of roof of the hospital have fallen endangering the safety of patients, doctors and other staff members. Apart from the helmets, doctors were also seen donning a placard stating " Unsafe Zone. A new building should be in place and it is in public interest, he said.
The hospital is one of the oldest hospitals in India. The hospital was completed in 1919 and was designed by British architect Vincent Jerome Esch,and Nawab Khan Bahadur Mirza Akbar Baig. C.V.O. for His Exalted Highness, Osman Ali Khan, the Nizam of Hyderabad in Indo-Sarcenic style. A heritage building representing its unqiue architecture, the building is now in shambles, in desperate need for repair.
Hospital Superintendent Nagender, however, said the situation was not as terrible as made out to be and there was no disruption of services, He said the government has initiated the procedure for construction of a new building.
The use of helmets by medical practitioners as a sign of protest has become a common parlance in india.
Earlier, the resident doctors of AIIMS were seen going about their duties at the hospital, while wearing helmets. The doctors were then protesting against the rising violence against resident doctors in medical institutions of the country.
4 comment(s) on Osmania General Hospital Falling Down: Doctors wear helmets while treating patients